Real autonomy, not independence, is the goal, says Dalai Lama
by Sridhar K. Chari, Tribune News Service, Dec 2, 2004
Bangalore, India -- Advocating a ?middle-way approach? towards a solution for Tibet, the Dalai Lama said here today that Tibet was indeed a part of China, and what he sought was not independence but ?genuine autonomy.?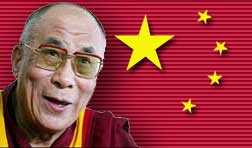 ?It will be in our interest economically to remain in China, provided the Chinese Government recognises and respects the ancient rich culture and spirituality of Tibet,? he said, delivering an address on ?Universal Brotherhood? organised by the Rotary Clubs.
He urged China to reconsider the decision to execute Buddhist leader Tulku Tenzin Delek Rimpoche, accused in bomb blast cases in the Chengdu region. China?s development activities in Tibet were to the good, except for possible ?demographic aggression? in allowing Chinese people to settle there. When asked if genuine autonomy was possible in his lifetime, he stated it was ?very possible.?
Later, delivering a public lecture on `Spiritual Ethics? he said that the Tibetan struggle was not ?a one-sided struggle, where only our benefit is sought, but it should be to the benefit of everyone, including our Chinese brothers and sisters.? He exhorted Tibetans in India to be ?warm-hearted and uphold the moral responsibility of representing our country.?
Speaking on religion and secularism, he said secularism did not mean being without religion, but having the right inner values. ?In times of large crises like death, we do turn to religion, but with crises of a lower order than that, we tend to rely on power and money, not on God. This happens even with outwardly religious people.?