On India PM's Tokyo list, Rs 5500-cr (US$ 3.7 mil) Buddhist infrastructure upgrade
by CITHARA PAUL, Indian Express, December 13, 2006
Holy places in Bihar and Uttar Pradesh to benefit most with new roads, airports, tourist centres proposed
New Delhi, India -- The tourism sector in India is waiting eagerly for Prime Minister Manmohan Singh's visit to Japan, starting tomorrow, with details of treaties involving Japanese investment worth Rs 5,570 crore (US$ 3.7 mil) likely to be finalised during his four-day stay.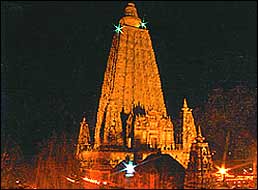 << Bodh Gaya in Bihar: on revamp list
The pacts would be part of the larger joint declaration to celebrate 2007 as the India-Japan Friendship and Exchange Year. The treaties come at a time when the inflow of Japanese tourists into India has been seeing a steady rise, growing 28% over the past two years, according to the Tourism Ministry.
The proposed projects will mainly cover Buddhist sites for infrastructure development with Japanese aid through next year. The Rs 5,570 crore fund will pay for works such as building roads, airports, tourist facilities and conservation in specified regions.
Buddhist holy places in Uttar Pradesh, Bihar, Andhra Pradesh, Madhya Pradesh, Orissa, Himachal pradesh, Sikkim and Jammu & Kashmir are likely to benefit.
The two countries are also working on an eight-point plan to boost tourism, which includes preferential treatment in issuing visas, more direct flights and joint tourism promotions.
"Japan has a strong presence in the Indian tourism sector and we are expecting to double the Japanese impact in next three years,'' said a senior ministry official.
There is more for the Buddhist circuit, covering Sarnath, Kushinagar, Piprawaha and Saraswathy in UP, and Bodhgaya, Nalanda, Rajgir and Vaishali in Bihar.
The Phase II of these projects, ending in 2012, will be providing Rs 680 crore for a period of seven years. Works include widening of highways, roadside plantations, conservation of monuments, construction of visitor and meditation centres, and power and water supply to Buddhist sites.
Japan will is also extend support to the Phase II of the Ajanta Ellora Conservation and Tourism Infrastructure Development Project. The places being covered by this project include Aurangabad, Daulatabad, Lonar, Nasik, Pune and Elephenta caves, apart from Ajanta and Ellora.