Ladakhis celebrate 'Yellow' saint's birth anniversary
ANI, December 17, 2006
Leh, Ladakh (India) -- Buddhists in Ladakh region of Jammu and Kashmir on Friday celebrated the birth anniversary of Tsongkhapa, founder of Gelugpa, Yellow sect of Tibetan Buddhism.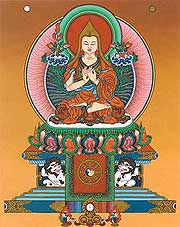 << Tsongkhapa, founder of the Gelugpa sect
The anniversary of the saint is celebrated on the 25th day of 10th month of the Tibetan calendar, which falls on the December 15 as per the English calendar, every year.
Tsongkhapa, also known as Je Pinpoche of the precious Lord, is one of the most ancient Tibetan saints and is known for his spiritual insight and realization of Buddha's teachings.
As the founder of the Gelugpa sect, his presence went beyond preservation of dharma to thoroughly refining the teachings of Buddha.
Monasteries were decorated with lamps and candles in the evening, as monks played drums and trumpets and burst crackers to celebrate the anniversary of the saint.
Tsering Samphel, former president of Ladakh Buddhist Association said the day was the most Important after the birth anniversary of Buddha.
"This day is most important day for the Buddhist of Tibet and Himalayan region after "Buddha Jayanti" (the birth anniversary of Buddha). On this day Glywa Tsongkhapa, was born in Tibet. He had founded the Galukpa sect of the four important sects of Tibetan Buddhism," he said.
Tsongkhapa, also founded Ganden Monastery and his Gelugpa tradition gave rise to may others following the same order.
The order spread through out Tibet and also spread in Mongolia, and Himalayan region of Ladakh. The saint is also referred to as Shar Tsong-khapa Lobsang Dragpa meaning he was born in the east of Tibet.
Ladakh also celebrates Losar (New Year), which begins with the birth anniversary of Tsongkhapa and ends on the ninth day of the eleventh month of the Tibetan Calendar.
Losar is an auspicious event, when Buddhists worships Gods and Goddess, marked by traditional cultural celebrations.
As festivity grips every household in the region, women folk decorate their houses with artworks and motifs made of flour, which is associated with the Good lucks and prosperity for New Year.