Railways to promote Buddhist tourism
DPA, December 24, 2006
NEW DELHI, India -- Indian Railways is set to roll out a special train to enable foreign tourists visit Buddhist pilgrimage sites in the country, news reports said yesterday.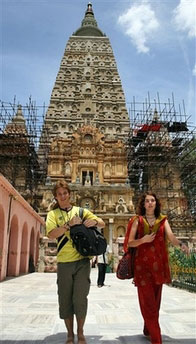 << Tourists taking in the site at Bodh Gaya

A nine-carriage, air-conditioned train will begin a 15-day tour of key sites associated with Gautama Buddha from January 12, the Indian Express newspaper reported.
The train will depart from the southern city of Chennai and will stop at several towns including Bhopal, Agra, Delhi, Varanasi, Gaya and Bhubaneshwar.
Buses will take passengers to Buddhist sites near these towns. These sites include a giant stupa at Sanchi in Madhya Pradesh and the Ajanta Caves with their famous paintings in Maharashtra.
The stops in eastern Bihar include Bodhgaya, where young Prince Siddhartha attained enlightenment to become the Buddha and Nalanda where there are ruins of an ancient Buddhist university.
The train will stop at Gorakhpur in northern Bihar allowing passengers to disembark and cross the border into Nepal to visit Buddha's birthplace Lumbini.
The route also includes sites like the Taj Mahal in Agra and historic monuments in Delhi.
Passengers would also be allowed to book part of the journey, if they did not want to do the entire tour, P K Goel, managing director of Indian Railways Catering and Tourism Corporation (IRCTC) said.
The train would have 336 berths at three levels with fares at $120, $90 and $80 per day.
The fares would include all meals, road transfers, hotel accommodation and entry fees at sites, Goel said.
Seven trips between January 12 and May 24 have already been planned.
"As of now, tourists fly to a particular place, visit a Buddhist site and fly out. We are trying to integrate all the sites related to Buddha and offer a pilgrimage kind of experience," Goel said.