Teachings on Buddhism by His Holiness in New Delhi
By Tenzin Dickyi, Phayul, December 23, 2006
New Delhi, India -- India Tourism Development Corporation The Ashok in partnership with The Foundation for Universal Responsibility (FUR) organized four days teaching on 'A first Course in Buddhism' by His Holiness the Dalai Lama at Hotel Ashok, New Delhi which commenced today.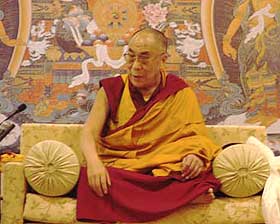 << Photo by Tenzin Dasel/phayul
The organizer of the event, The foundation for Universal responsibility of His Holiness the Dalai Lama is a non-profit, non-sectarian, non-denominational, organization established with the Nobel Peace Prize awarded to His Holiness in 1989. FUR aims at bringing together men and women of different faiths, professions and nationalities, through a range of initiatives and mutually sustaining collaborations.
The event began with the felicitation of a traditional white Tibetan scarf (Khatak) to His Holiness by Mr.Rajiv Mehrotra, Trustee/Secretary of FUR.
His Holiness the Dalai Lama, while expressing deep appreciation for the organizers of the event said, 'I am very happy to come here and talk about Buddhism when People are willing to listen'. His Holiness also said that this will be a very informal session.
Around 200 people were present for the teaching as the entry was allowed only by prior invitation and registration. The event was attended by several Indian Politicians, various dignitaries of the organizing teams, some senior diplomats from the Central Tibetan Administration (CTA) and many ardent followers of Buddha Dharma.
The hallway which leads to the main Hall was adorned with prayer flags and various Tibetan paintings. The exhibition of His Holiness's portraits with various leaders and dignitaries of the world was also displayed in the lobby area which people really appreciated.
The paintings of Buddhas (Thankas), prayers flags, scriptures which read 'Om Mani Pedme Hu' on the walls of the hall set the perfect Buddhist ambience which exudes peace, tranquility and above all a very positive feeling.