Bodhgaya Is To Host World Peace Ceremony
By Ugen Sherab, Gorkhapatra, Dec 29, 2006
Bodhgaya, India -- The World Peace Ceremony is a celebration of light within darkness and darkness within light, which flows with a hopeful source for world peace.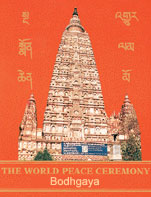 As puja "Nyingma Monlam Chenmo" begins from Jan.19 to 28, 2007 Bodhgaya, the holy site, scores symphony with colours and monks. The beginning month of the New Year appears as the season of flavour considering the big gathering of Dhamma devotees flocking to the holy city.
At this time of puja World Peace Ceremony the whole back town of Bodhgaya turns into a hub of religious activity.
The World Peace Ceremony is a festival of great enamour particularly for monks, nuns Khempos, Tulkus, Rinpoches and lay practitioners.
There are five popular events to be observed during the 10-day puja. They are Deepawali (oil lamps and candles lights) around the Bodhgaya temple, dole out feast at the Beggars corner, harmonious chanting of the holy texts at the foot of Enlightenment, Prikrama (going around) of the Mahabodhi compound and distribution of Dharma books.
With the onset of the tourist season the foreign tourists who travel to India ensure that they time their visit to Bodhgaya.
Among all religious traditions of Asia, Buddhism upholds the practice of great vehicles to realization?Sarvakyana-Mahayana-Bajrayana. They all join together in prayer with one motif of world peace and human welfare.
Modern Tibetan Buddhism introduced in the eight century in Tibet was flourished for more than twelve hundred years. Several traditions transmitted within four major schools?Nyingma Kagyu, Sakya and Gelug.
Leaders of Tibetan Buddhist traditions distinctly began sponsoring the regular puja from 80s in the main holy places: Bodhgaya, Sarnath, Lumbini and Kushinagar.
Nyingam school chose Bodhgaya , Kagyu and Sakya Lumbini, the birthplace of Shakyamuni Buddha. Gelug selected Sarnath where Lord Buddha turned the Dharma wheel for the first time.
Ven. Tarthang Rinpoche is one of the Buddhist masters whose efforts made today's development of Bodhgaya the most sacred place where Lord Buddha demonstrated the supreme transformation of consciousness.
Rinpochhe was deeply touched with sadness by the physical appearance of Bodhgaya in 1959 and started doing immense sadhana (meditation) to acquire spiritual power in order to decorate Bodhgaya as the venue of Dharma Book Distribution. He believes that the gift of knowledge is a great asset, which helps attain the deep insight for realization.
All those interested to accumulate merit on behalf of all beings are advised to pack their back and be a part of the pulsating action at the Bodhgaya festival that kicks from 19th January this year.