Dalai Lama to visit Tripura
The Telegraph, January 15, 2007
Agartala, India -- Nobel laureate and Buddhist spiritual leader Dalai Lama will arrive for a two-day visit in Tripura on Tuesday to inaugurate the fifth anniversary celebrations of Bankul Dharmadwipa High School in the South district.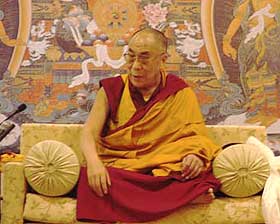 << The Dalai Lama
He will address religious gatherings in the school and the Venuban Buddhist monastery in Agartala during his trip.
The government is making elaborate arrangements to welcome the Tibetan leader. Security has been tightened in Bankul village and its surrounding areas.
A temporary pandal has been erected at Venuban monastery where the Dalai Lama will preside over a religious discourse.
Official sources said the Dalai Lama would arrive in Agartala on Tuesday and after a brief stopover, will fly to Bankul by helicopter.
Dalai Lama's visit has generated "tremendous enthusiasm and interest among Buddhist Mog and Chakma communities and even among the non-tribals," the source added.
Speaking over phone from Sabroom, Achaichhi Mog, a veteran leader of the community, said the Bankul Dharmadwipa High School was built in 2002 with only 50 students (30 boys and 20 girls).
Dharmadwipa Bhikshu, also a Mog, established the school.
"During the past five years, the school has made lot of progress. It now has more than 400 students and teachers," Mog said. Classes are held in English and Hindi. The students are also taught Buddhist theology, scripture and Pali language, he added. However, admission is open to students from all communities.
The Mogs fled their homes in Chittagong, Bangladesh, and settled in South Tripura in a phased manner since Partition.