Richard Gere takes monks by surprise
The Hindu, Jan 15, 2007
Gere calls for expanding awareness of AIDS through education
MYSORE, India -- Hollywood star Richard Gere turned up the Tibetan settlement at Bylakuppe, near here, on Friday catching the Buddhist monks gathered at the Tashilhunpo Monastery there by surprise.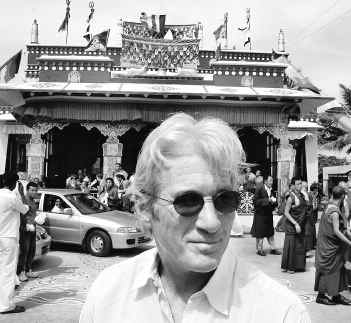 << Hollywood actor Richard Gere at a Tibetan monastery in Bylakuppe near Mysore, Karnataka, on Friday. — PHOTO: M.A. SRIRAM
Mr. Gere's arrival coincided with the visit of Buddhist spiritual leader, the Dalai Lama, who laid the foundation stone for the construction of a new building in Bylakuppe.
Accompanied by his wife, Carey Lowell, Mr. Gere had reached the Tashilhunpo Monastery before the Dalai Lama's arrival and mingled freely with the Buddhist monks, who vied with each other to shake hands with the celebrity. A few lucky ones even managed to get themselves photographed with the Hollywood star.
As the Dalai Lama's convoy reached the venue, Mr. Gere positioned himself to capture photographs of the Buddhist spiritual leader in his digital camera.
Later, he went inside the monastery and took a seat along with other monks and dignitaries including Deputy Commissioner of Mysore Selva Kumar.
Mr. Gere sat through the prayer meeting presided over by the Dalai Lama inside the monastery.
On his way out of the monastery, the Dalai Lama waved at MR. Gere acknowledging his presence.
Chatting with reporters, Mr. Gere described himself as "an old friend of Tibet." He said the Dalai Lama was his "friend and teacher".
Dwelling on Buddhist philosophy, Mr. Gere said there is no concept of "permanent self" or "Atma" in Buddhist philosophy.
"There is only a feeling from the heart and everyone connects with each other through it," he said.
Mr. Gere said he was also part of the Heroes Project in India, which seeks to develop co-ordinated campaigns to address the spread of HIV/AIDS and reduce the stigma and discrimination by educating people.
Regretting that many people in India had wrong notions about AIDS, Mr. Gere called for a expanding the awareness of AIDS through education.
The level of awareness should go up, he said.
"If I, you [media], Government and NGOs could work together, I am sure we can do a lot of good", he added.