Successor not the real issue but Tibet, says Dalai Lama
By Syed Sajjad Ali, Indigenous Herald, January 17, 2007
Agartala, India -- Tibet's temporal and spiritual leader in exile Dalai Lama has affirmed that search for his successor was not the main issue, but the problems of Tibet. He alleged that Tibet has developed in certain areas including railway connection, but there was not 'political freedom' in the region.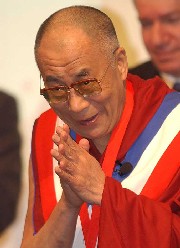 Noble peace laureate who arrived here Tuesday on a four day visit to Tripura was speaking to newsmen at Manu Bankul, 130km south of here, which was venue for his religious and academic engagements Wednesday. He laid foundation stone of a Buddhist cultural centre, chaired 5th anniversary of Buddhist Dhamma Dipa residential school and inaugurated Muhrat of a feature film in Mog tribe language apart from joining a religious session.
Some forty foreign monks and Buddhist scholars from Southeast Asian countries and Europe as well as United States of America participated in day long events occurred in Dhamma Dipa school complex amid a security blanket by paramilitary troops and intelligence sleuths.
Earlier 14th Dalai Lama interacted with media persons in which he spoke on Indo-China relationship, status of Arunachal Pradesh and Tibet affairs. He stated Beijing was on a search for his 'friendly successor'. "Dalai Lama is not the real issue, but Tibet", he pointed at the region that he left in 1959 following Chinese invasion.
In 1995 the Dalai Lama chose a six-year-old boy as his next in command, the Panchen Lama, who later disappeared. There were conflicting reports about his whereabouts. Dalai Lama during his tour in Europe earlier hinted that his successor might come from a place other than Tibet which was largely seen a well thought political deliberation.
As per Tibetan tradition, based on reincarnation, the leader is chosen in a formal procedure in which the right child is found to fill the place of the previous Dalai Lama, a local Buddhist leader said.
Dalai Lama also made a significant statement on status of Arunachal Pradesh. He said in accordance to the pact of 1949 signed by Chinese, Tibetan and Indian representatives Arunachal Pradesh was integral part of India.
On China-Indian tie he said both countries improved relationship as both shared common characters including that of huge population. He rejected all means of violence here and there, and said violence could not right answer for anything.
Dalai Lama also said he supported Marxism but deplored that theory of Marxism was not practiced. He returned Agartala in evening by an Indian army chopper.