Bodh Gaya to match international standards
Indo-Asian News Service, Dec 5, 2004
Patna, India -- Bodh Gaya is to be developed into a popular spiritual and tourist destination in accordance with Unesco specifications. According to tourism department officials here, the Bihar town where Buddha attained enlightenment will be developed as a 'holy city' to match international standards.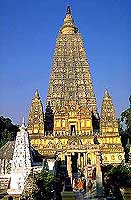 The Housing and Urban Development Corp (HUDCO) has prepared an integrated master plan and site management plan, Vision 2030, for the overall development of Bodh Gaya.
The Bihar government roped in HUDCO last year to prepare a master plan for Bodh Gaya after Unesco threatened to revoke the World Heritage Site status for the Mahabodhi temple there.
Work on HUDCO's master plan, now under consideration of the state government, is likely to start soon.
Sources said funds would be no problem for the Bodh Gaya development project as Rs.3 billion was provided under the 10th plan for development of a Buddhist circuit, or a tourist circuit with places of Buddhist interest.
"The funds will be used for development of the Buddhist circuit and Bodh Gaya is at the heart of the circuit," an official said.
The 1,500-year-old Mahabodhi temple was declared a World Heritage Site by Unesco in June 2002, becoming the 23rd site in India to be so honoured.
The state government has assured Unesco time and again that its guidelines - including the enforcement of a strict ban on all construction in a one-kilometre radius around the temple - would be strictly followed.
But the ban is being openly violated and new structures are coming up fast within the restricted area. It was alleged that some powerful people close to top politicians and bureaucrats were flouting the ban on construction around the Mahabodhi temple.
Unesco guidelines limiting the height of structures near the temple to 11 metres too are being violated. It has warned the state government not to compromise on the conservation of the temple.