Meeting the Dalai Lama
Cybernoon, January 31, 2007
Devotees recall their association with His Holiness and how much their lives have changed since
Mumbai, India -- Today at the MMRDA grounds in Bandra-Kurla hundreds will benefit from the Dalai Lama's all-embracing aura of warmth and compassion. Those who have met His Holiness can only rave about him and those who haven't aspire to do so. This reporter spoke to a few of those who, born to a certain religion in this lifetime, nevertheless found themselves inexplicably drawn to Buddhism in mind and in spirit.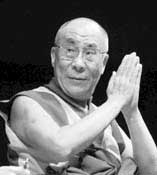 "I met the Dalai Lama quite by accident," said Teejay Siddhu, television personality. "I went to Dharamshala about four years back and was just stepping out of a book store, having bought his book 'Thoughts on the New Millennium', when he was walking past the store with a few monks.
The owner of the store took me to him.
"The first thing that struck me about him was his warmth," she said. "I was a complete stranger to him and I am sure thousands of people must be trying to meet him every single day, but when he and I met, I felt … uplifted. He treats every single person who comes his way the exact same way – like the person is very, very special. Thereafter I have made a trip to Dharamshala every year and, uncannily enough, I have had the good fortune of meeting the Dalai Lama every time I've gone!"
Her annual trip is a getaway in the true sense of the word where she slips into the quietude of spiritual bliss.
"I have been meditating every single day for the past 15 years and this only further cemented my connection with all things spiritual," Teejay said. "Prayer is when you talk to God; meditation is when God talks to you. It helps improve the quality of your life. And everyone needs this or something akin to this to keep them grounded and humble. Otherwise it is very easy to get carried away by success, fame, money, stress, anger, etc etc. Reading a lot of books on the subject and acts of kindness increase one's level of awareness and capacity to feel compassion for others."
Actor Ashmit Patel is yet another who is attracted to the principles of Buddhism.
"I have always admired Buddhism at a distance," he told us. "If one looks at all the religions carefully, one will see that they all began at the same point and head toward the same end, but somehow most became very corrupt along the way. Buddhism has retained its honesty, its sincerity and its spirit today is the same as when it was first conceived. So I was always drawn to it.
"One of the locations of my film 'Benaras' was in the complex where Gautam Buddha delivered his first sermon, located in Sarnath, at the outskirts of the city Varanasi," he said. "I cannot explain what exactly happened there and I cannot get into the details, but it was a magical experience. The incidents brought me closer to the spirit of Buddhism and I began to form a conscious wish to meet His Holiness. That has happened; Last year in Delhi I finally met him. it is, again, an experience I cannot put down to words."
"I am actually a follower of Sri Ravi Shankar, but one will notice that all great spiritual leaders are essentially saying the same thing," said Manoj Bohra, television personality. "That way, there is no difference between Shri Ravi Shankar and the Dalai Lama. Both their spirits are untainted. A new world will open up to those who will attend the discourse on the 31st."
Sascha Sippy, Chairman, Sholay Media and Entertainment Private Ltd, is the man behind the event.
"Some time back I got the idea of starting a Thought for the Day by Dalai Lama," he said. "I managed to get a meeting with him. I was in his presence for a few seconds only. One look into his eyes overtook my life; I saw and felt the peace and tranquillity I had been looking for. I spoke extensively with others who have been close to him and thus the Sholay Charitable Society was born.
"The most amazing thing about the Dalai Lama is, i.e. when you compare with other religions and leaders, is that conversions are not allowed!" he said. "He has always said that we are born into a particular faith, how can we simply turn our backs to it? Adapt and adopt is his mantra."
Sippy believes that it is Mumbai's good karma that has finally attracted His Holiness to the city and that in turn will further enhance our karma.
"Having met him and having delved into the principles of Buddhism, I can say that it makes one a better person," he said. "I have become more compassionate, loving, giving and accepting. What can be better than to share that wealth with others?"