Buddhists seek Dalai Lama help for Bihar temple control
IANS, Feb 7, 2007
Patna, India -- Buddhist monks, who have sought the Dalai Lama's intervention against non-Buddhist control of Bihar's Bodh Gaya temple management, are critical of his continuing silence on the issue.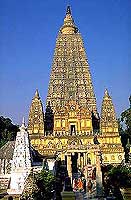 Bhante Anand, the president of the Bodh Gaya Mahabodhi Vihar All India Action Committee, said Buddhists had been given little role in managing the temple's affairs since a 1949 act. Under the act, the management consists of eight members - four Buddhists and four Hindus. A Hindu was named the ex-officio chairman.
'We demand that the Dalai Lama end his total silence over the non-Buddhist control of the Mahabodhi temple and mobilise support for us to take control of the temple,' said Anand.
He said it was high time the Dalai Lama, being a Nobel laureate and a globally recognized leader, pressure the central and state governments to hand over the management of the temple to Buddhists.
Anand said the monks were shocked over the Dalai Lama's silence during his four-day stay in Bodh Gaya last week. 'We, the Indian Buddhists, have been agitating for Buddhist control for over a decade and will continue to agitate for control of the temple.
'But we wonder (about) the Dalai Lama's neutral stand on an issue directly related to the holiest Buddhist shrine in the world.'
The Dalai Lama should initiate negotiations with the central government on the 2,550-th birth anniversary of Gautam Buddha in Bodh Gaya, he said.
The monks have also asked Prime Minister Manmohan Singh, United Progressive Alliance chief Sonia Gandhi and Bihar Chief Minister Nitish Kumar to amend the Mahabodhi Temple Management Act of 1949 for Buddhist control over the temple.
The temple, declared a World Heritage Site by UNESCO in June 2002, attracts hundreds of tourists daily.