Spotlight is now turned on Buddhism
by Vinaya Kumar, Deccan Herald, April 29, 2007
The year 2007 is being celebrated as the 2,550th year of Buddha's 'Mahaparinirvana'. On the eve of Buddh Purnima, Vinaya Kumar reports on how Buddhism can draw foreign tourists to India in droves.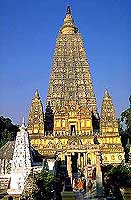 New Delhi, India -- It is estimated that 15 percent of the four million foreign tourists coming to India annually make it a point to visit the Taj Mahal. The 'great monument to love' fetches us nearly 600 million US dollars in foreign exchange. But if the efforts of the Tourism Department, aided by inputs from the Federation of Indian Chambers of Commerce and Industry (FICCI) proves fruitful, then the Holy Bodhi tree in Bodh Gaya might provide us with more tourist revenue (estimated at one billion dollars) than the Taj Mahal.
Buddhism founded in North India is not a religion but a system of philosophy and a code of morality. With 6.6 million Buddhists in its manifold, the country abounds in a plethora of monuments and locales associated with Buddhism. Today, there are over 500 million Buddhists all over the world especially in the Far East and the South-East Asian countries. Though the sects and beliefs within Buddhism are many, they all look upon these sites in North India with great reverence and Lord Buddha himself had exhorted his followers to be, to make the pilgrimage to India, the birth place of Buddhism.
In his words "O-Bhikshus' after my death when people and members of new generation come and ask you, then tell them that here the Buddha was born, here he attained full enlightenment, here he turned the wheel of Dharma twelve times, and here finally the Buddha entered into Parinirvana".
Hundreds of years have gone by, but architectural splendours, still standing resoundingly are ample testimony to Buddhist philosophy and doctrines.
The four famous places of Buddhist pilgrimage are Lumbini, Bodh Gaya, Sarnath and Kushinagar, which are associated with the life and teachings of Lord Buddha. Lumbini, in Nepal, is the birthplace of Gautama Buddha. The other sites are in India. Bodh Gaya was the place, under the pipal or Bo tree, where the Buddha was enlightened after practicing meditation for several years. Sarnath was the site of his first teaching and Kushinagar was the place of his death or Mahaparinirvana.
In 1957, when the 2,500th birth anniversary of Lord Buddha was celebrated, the interest to develop these pilgrimage centres was rekindled. Unfortunately nothing much was done. Fifty years later, the tourism department has drawn up a plan of action to celebrate 2007 as the 2,550th year of Buddha's Mahaparinirvana. The Mahabodi temple in Bodhgaya town in Bihar, where Buddha is believed to have attained enlightenment 2,500 years ago is today a UNESCO World Heritage site. Today many important projects like the resuscitation of the 2,500-year-old Buddhist University of Nalanda and the proposed Buddha statue project of Maitreya - an international organisation are important tourist spots.
The aim, the statue sponsors say, is not just to build a unique statue but "to benefit as many people as possible for as long as possible". The 152 metre (500 feet) high Buddha will stand in the centre of 750 acres of landscaped environs, designed to last at least a 1,000 years.
The question now is, where are the Buddhist tourists who are coming to see these holy places? In 2006, the total traffic to the Buddhist circuit was two lakhs, a mere five percent of the total inbound tourist traffic to India. Estimated Buddhist visitors to India in 2005 from select countries as against percentage of the Buddhist population in those countries was less than 0.6 percent. Travel agents say nearly one million tourists turned away due to high costs or infrastructural constraints such as lack of accommodation, interpreters etc. Of these Buddhist pilgrims, Japanese tourists alone numbered more than 50 percent and were also the most aggrieved, as they found the hotels/transport in the Buddhist circuit to be very primitive. In the last 50 years Japan had, with the cooperation of Air-India, constructed hotels of international standard in Bodh Gaya. In 2007, Rs 400 crore was allocated to make the Buddhist circuit 'tourist friendly'.
In the past 50 years, India has failed to promote these Buddhist sites, with even foreign funds obtained remaining under-utilised.
The study by FICCI suggested three Buddhist circuits. Life of Buddha; locations in Uttar Pradesh and Bihar related to Buddha's life which are places of pilgrimage interest combined with Lumbini in Nepal. Icons of Buddhism sites are spread in Orissa, Andhra Pradesh, Maharashtra, Madhya Pradesh and Chhattisgarh which have commemorative structures of artistic and archeological interest. By designing effective strategies to promote India as a Buddhist hub, the circuits can aim to attract 0.25 per cent of the world's Buddhist population by 2012. This is equivalent to about one million tourists – a rise of 500 percent from the current annual base of two lakhs, giving India a tourist revenue of Rs 4,500 crores. It calls for increasing the number of direct international flights from important source markets like China and Japan to India, and raising the frequency of domestic flights between Buddhist sites like Bodhgaya and Varanasi.
As a first step,the Indian Railways has launched a new Buddhist circuit special luxury train, Maha-Parinirvan Special, from February 2007. It will cover prominent Buddhist pilgrim centres in India and Nepal. This is the first major link to all Buddhist pilgrim spots in India and Nepal in the environs of luxury and comfort.