Tibetans' struggle in global spotlight: Dalai Lama
ABC News Onlie, Dec 12, 2004
Dharamsala, India -- Exiled Tibetan spiritual leader the Dalai Lama says 45 years of struggle for Tibetan rights have catapulted the cause of the Tibetan people into the global spotlight.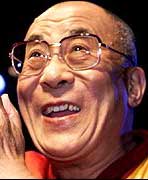 The Dalai Lama, who was recognised as the reincarnation of the 13th Dalai Lama at the age of two, is visiting India's largest Tibetan resettlement camp in Bylakuppe in southern Karnataka state.
"In 1959 when we came into exile, the only acquaintances we had were the sky above and the earth below," the Dalai Lama said.
"But with the passage of time we managed to have more sympathetic supporters and friends who strongly extended their support in preserving our Tibetan spirituality and help fight for our rights.
"Support for the Tibet cause is growing everywhere.
"It's a positive change we've been able to achieve during the past 45 years of our struggle."
India has played host to the Dalai Lama, 69, and his Tibetan government-in-exile since he fled Tibet in 1959 after a failed uprising against Chinese rule.
Thousands of other Tibetans also have sought refuge in India.
"There's even a growing interest among the young Chinese on Tibet," the Dalai Lama, who is waging a non-violent campaign for greater autonomy in his homeland, said.
"I hope some positive result will happen in the long run."
Tibetan exiles have long accused China of trying to wipe out Tibet's Buddhist-based culture through political and religious repression and a flood of ethnic Chinese immigration.
China wants the Dalai Lama to stop what it sees as his separatist activities, although he says he recognises Tibet as a part of China.
Over 10,000 monks, nuns, men sporting colourful Tibetan hats, and women, some with children on their laps, listened in rapt silence to his speech at a monastery in Bylakuppe.
Some monks climbed rooftops while others stood outside the main gates to catch a glimpse of the Dalai Lama.
The monasteries are awash with green and yellow banners welcoming him.
The settlement houses more than 20,000 Tibetans.
Another four settlements are around Bylakuppe, housing another 20,000 Tibetans.
The Dalai Lama's government-in-exile is headquartered in the northern Indian hill town of Dharamsala.
Saluting India, he calls it a "second home".
"We came into exile to a land which is known as the 'Land of Superior Beings,'" he said.
"We've inherited all our deep philosophical way of life, non-violence and compassionate way of life from India."
Direct contacts between the Dalai Lama and Beijing collapsed in 1993 and were renewed only in 2002.