His Holiness Graces TCV's 44th Anniversary
TibetNet, October 25, 2004
Dharamsala, India -- His Holiness the Dalai Lama yesterday graced the 44th anniversary celebrations of Bhuso Khang (nursery for Tibetan children) or the Tibetan Children?s Village school as it is called now.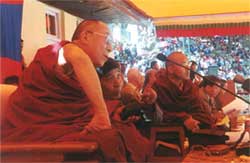 This year?s anniversary features the 4th Inter TCV Athletics Meet. The school, which now has become the largest Tibetan school in exile, was started as a nursery with little more than 50 students in 1960. Its annual anniversaries blessed by His Holiness? visit draws the largest gathering of local residents in a year.
Gyalwa Karmapa Ugyen Trinley Dorjee, head of the Karma Kagyu tradition of Tibetan Buddhism, was also present at the celebrations.
His Holiness the Dalai Lama said that every Tibetan should take the responsibility of grooming children into ideal citizens of Tibet.
His Holiness also said that the Tibetans may not be strong in number but have managed outstanding performances in every field as compared to other refugee communities.
Kalon Thupten Lungrik strongly criticised the consumption of substances capable of intoxication by Tibetan youngsters these days and urged every one to help eradicate the evil from the Tibetan society.
Mr. Lungrik also expressed hopes that the Tibetan Children?s Village school will extend all possible assistance in the administration?s efforts to implement the new education policy of the 12th Kashag.
Mr. Pema Jungey, the Chairman of the Assembly of the Tibetan People?s Deputies, also appeared critical of the school children?s consumption of substances capable of intoxication.
Cultural performances, yoga and aerobics, calisthenics display by students were the morning session?s attractions. His Holiness later watched the opera performance Pema Woebar (Glittering Lotus) by the Tibetan Institute of Performing Arts.
Later in the evening, the representatives of the six different TCV schools met in a battle of words in the inter TCV Tibetan debate competition on the topic "the present education system in the best for us". TCV School, Gopalpur, bagged the first position.