Dalits, nomads convert to Buddhism en masse
Gulf Times, May 28, 2007
MUMBAI, India -- About 50,000 low-caste Hindus and nomadic tribespeople converted to Buddhism before a vast crowd yesterday in the hope of escaping the rigidity of the ancient Hindu caste system and finding a life of dignity. Monks in orange and saffron robes administered religious vows to the converts as about half a million spectators, mostly Buddhists, cheered the ceremony at the Mahalaxmi horseracing track in Mumbai.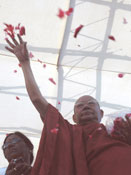 << Buddhist monks and Dalits attend a mass conversion ceremony in Mumbai yesterday
Some of the converts were low-caste Hindus once considered as "untouchables" by the higher castes, but most were members of India's numerous nomadic tribes.
Many of the tribespeople had their faces painted and ritually flagellated themselves before being asked by the monks to give up their practices and follow the non-violent path of Buddhism.
"Whatever may have been your religion until now, from today you will take refuge in the teachings of the Lord Buddha," one told them.
At a signal from the monk conducting the proceedings, the converts, some of them visibly emaciated or carrying babies in their arms, stood up, took off their shoes and with folded hands repeated Buddhist chants.
Hindu scriptures separate people into Brahmin priests, warriors, farmers, labourers, and those beyond definition — called "Dalits".
These low-caste Hindus, making up about a sixth of India's 1.1bn people, were once considered "untouchable", performing the most menial and degrading jobs.
While the constitution forbids caste discrimination, and spectacular economic success and exposure to Western culture have remoulded many social paradigms, the caste system has persisted, above all in villages.
Large-scale Dalit conversions take place periodically in India, with close to 10,000 changing faith in October to mark the 50th anniversary of the conversion of their deceased political leader Bhimrao Ramji Ambedkar.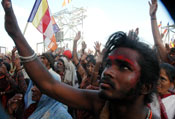 Ambedkar, a low-caste Hindu who rose to become a distinguished jurist and played a key role in drafting India's constitution, galvanised Dalits with his public rejection of caste and Hinduism itself.
Exiled Tibetan spiritual leader, the Dalai Lama, who was due to preside at the function could not attend due to health problems.
"They want to embrace Buddhism because it is a free religion. It is open to all. It preaches non-violence and is not divided on the basis of caste," Ramdas Athavle, the leader of the Republican Party of India (RPI), which organised the event, said.
"Now Ambedkar's dream of making entire India Buddhist again is going to be fulfilled," a senior Buddhist monk Bhadanta Rahul Bodhi Mahathero had earlier told the Hindu newspaper.
Yesterday's conversion came just two weeks after Mayawati, a Dalit woman, was sworn in as chief minister of Uttar Pradesh, India's largest state in an unexpected majority win that some saw as a sign of how far the group has come.
Dalits are still often beaten or killed if they use a well or worship at a temple reserved for upper castes.
"I'm here because people from our village have decided to become Buddhist," said Santosh Mane, a landless labourer from a village about two hours' drive from Mumbai.
Sushil Kathe, who travelled thousands of kilometres to convert yesterday, remembers not being allowed to drink from the local well as a child growing up in a village in a rice-growing district of Maharashtra.
"The upper caste came and did not allow us to drink water. They said the place would be impure if we were allowed to take the water," said Kathe, 25, who sells religious booklets.
The conversions have been opposed by right-wing Hindus who have pushed some states to legally restrict the practice, calling them "forced."
But landless labourer D G Khade said conversion was his only hope of a life of dignity in India.
"The Hindu religion is structured in such a way that we lower-caste people will never get dignity," said Khade.
"I am 45 and I don't want my children to suffer my fate."