Exiled Tibetans fight to save ancient Buddhist art
By Saurabh Sati, Reuters, May 30, 2007
NEW DELHI, India -- Exiled Tibetan artists in India are battling to ensure the survival of a 1,400-year-old Buddhist art form that is a significant element of the faith.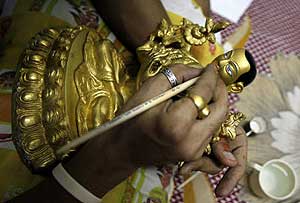 << Tibetan artist Khunchok Palden, 26, paints a sculpture at his home in New Delhi May 29, 2007. REUTERS/Tanushree Punwani
Known as Thangka painting, it has for years adorned ancient monasteries and was used to monks to teach their faith. The images are usually painted on cloth and depict deities or Buddhist principles.
But dwindling numbers of Buddhist disciples in Tibet and the ageing of India's painters in exile, in addition to meagre returns, are all putting the future of Thangka at risk.
"Our teachers learned Thangka by hiding under blankets and using lamps to see what they were doing," said Sonam Tsering, who has been painting Thangkas for fifteen years and who now works at Norbulingka Institute, which aims to preserve Tibetan culture.
"Knowledge of Buddhist philosophy is essential for a Thangka painter. With the institutions of Buddhist learning in Tibet growing fewer each day, the number of Tibetan Thangka painters in Tibet is coming down," he added.
"And we have fewer than 40 master painters in India to teach those who come here."
Some painters are turning their paintings into instruments of political protest against the Chinese occupation of Tibet. Others are trying to preserve age-old traditions, ekeing a living in Indian cities.
"This is my way of protesting against the award of the Olympic games to China," Tenzin Dhakpa said, gazing at his painting of a dragon, representing China, guarding five Tibetan stones, symbolising the Olympic rings, from a Tibetan snow lion.
The mythical imagery may be centuries old, but for 22-year-old Dhakpa and other Tibetans exiled in India the message is painfully current.
"My emotions, my desires and my aspirations -- all these influence my sketches. The reality around me also filters into my paintings," said Dhakpa, who fled with relatives to India from Tibet as an infant after Chinese occupation of the Himalayan region.
He now lives and paints in a small room at a Tibetan hostel in the north of New Delhi.
A DYING ART?
About 120,000 Tibetans live in exile in India, including the Tibetan government-in-exile and Tibet's spiritual leader, the Dalai Lama, who fled in 1959 following an abortive uprising against Chinese rule.
Many live in colonies around India, trying to preserve their culture while they wait in hope of returning to their homeland.
A Thangka painting is considered to be a religious object and an expression of Buddhist ideals.
In Dharamshala, the home of the Tibetan government in exile, Tsering said he was cautious about linking Thangka painting with politics.
"New ideas lead to new paths and in that sense these developments are good," he said.
"But we should avoid mashing the new ideas with traditions. Otherwise we would not have a heritage to pass on to the future generations."
But many Thangka artists say they find it tough to make a living from the paintings.
Khunchok Palden has been painting Thangkas for 12 years, accepting commissions from monasteries and other Tibetans. He takes about a month to complete each Thangka, which he usually sells for about 7,500 rupees.
"There is no money to help me survive between assignments," he said. "At times I feel as though I am in a jail. I do not have time to meet my friends."