Bhutan bans tobacco sales
IOL, December 16 2004
New Delhi, India -- The Himalayan kingdom of Bhutan will become the first country in the world to impose a complete ban on the sale of tobacco when it does so on Friday.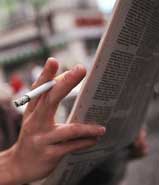 Smoking is to be banned in all public places. People can light up in the privacy of their homes, but it comes at a hefty price: those bringing tobacco into the country for their personal use will be charged a whopping 100 percent tax.
Over the past year, 18 of Bhutan's 20 districts have already banned tobacco sales. On Friday, the capital, Thimpu, and a south-east district will join, making it a nationwide ban.
Health Ministry officials said shops, bars and hotels had been given a month to dispose of their existing tobacco stocks.
A month to dispose of their existing tobacco stocks
The penalty would be quick and severe for those defying the ban, with fines starting at 10 000 ngultrum (R1 300).
Repeat offenders risked losing their commercial licences.
"There has been no opposition to the ban - maybe only from some urban youth. Most people are actually very happy about it," Bhutan's Health Secretary, Sangay Thinley, said.
Bhutan's tobacco is imported mostly from India. Apart from cigarettes, it is usually smoked in the form of "bidis" - rolled in maize leaves - chewed or used as snuff.
Officials said the ban would be implemented with co-operation from the ministries of Trade and Industry, Revenue and Health.
"We can't check private smoking, but the monitoring of tobacco sales will be done by stakeholders as well as local communities," Thinley said.
"This is a first, important step towards making us a smoke-free nation."
Elders and religious leaders frown on smoking.
"There is a strong religious context to the ban. In Mahayana Buddhism, smoking is not considered a good thing to do," he said.
An editorial in November in the Bhutanese weekly newspaper Kuensel said the only Health Ministry survey on tobacco use conducted in the early 1990s had revealed that an estimated 1 percent of the population smoked.
The United States-based Centres for Disease Control and Prevention said chronic lung disease was an important cause of morbidity and mortality in Bhutan, but lung cancer was rare.
Almost all ischaemic heart disease patients in hospitals were found, by the centres, to be smokers.
Bhutan's first documented legislation banning tobacco use in all religious places, which is still observed today, dates back to 1729, according to the World Health Organisation.