Sikkim bows to Dalai Lama
Statesman News Service, July 6, 2007
GANGTOK, Sikkim (India) -- Along with rest of the world, the 72nd birth anniversary of the 14th Dalai Lama was celebrated in Sikkim today. Over 4,000 people gathered at the Shera Jhy Dophenling monastery in Chandmari, on the outskirts of Gangtok today to celebrate the birth anniversary of the spiritual leader.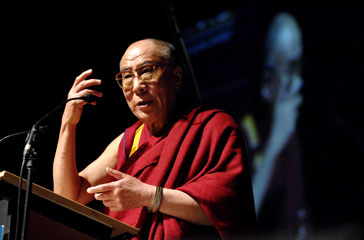 Septuagenarian Tibetan men and women were seen busy chanting mantras and rotating self prayer wheels and prayer beads simultaneously to pray for the long life of the Dalai Lama and deflect evils from his life.
Students from Chummi Sambota, Palden Khangsang and Palkhang also participated in the programme. The Tibetan schools in Gangtok remained closed to mark the day. Tibetan artistes performed traditional Tibetan cultural dances and modern musical programme at the monastery.
"We have been celebrating the Dalai Lama's birth anniversary since 1958 before the spiritual leader fled from Tibet and entered Sikkim. The royal king of Sikkim had offered us a small plot of land to follow the Tibetan rituals. In 2003, we came out with a monastery here with active support from the state government," said Mr Chamba Lama, the coordinator of the Shera Jhy Dophenling monastery.
The monks were seen offering mandala and khadas to the image of the Dalai Lama. Members of the Tibetan Youth Club (TYC) released 108 pigeons in the air to pray for the long life of the Dalai Lama.
Gangtok MLA Mr NK Pradhan and Assembly speaker Mr DN Thakarpa were also present on the occasion. Members of the Sikkim Buddhist Duchen Association, Tamang Buddhist Association, Tashi Targey Association and Sherpa Buddhist Association, also joined in the celebrations today.