Dragon sect of Tibetan Buddhism celebrates 800th anniversary in Ladakh
AFP, July 17, 2007
Monks and nuns from monasteries across the Himalayas gathered in India's far northern region of Ladakh Tuesday to mark 800 years of the Drukpa, or "dragon" sect of Tibetan Buddhism.
SHEY, India -- Starting before dawn, monks clad in maroon robes recited prayers for the long life of their spiritual leader the Gyalwang Drukpa, believed to be the twelfth reincarnation of the founder of the order, the first Gyalwang.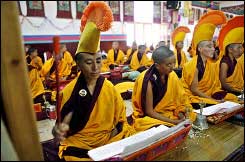 << Buddhist nuns take part in prayer for the long life of the spiritual leader of Drupka lineage, Gyalwang Drukpa
© AFP Manpreet Romana
One floor below, hundreds of nuns wearing saffron-fringed caps resembling mohawks chanted, rang bells, beat drums and blew on conch horns in a prayer ceremony that lasted several hours.
Followers travelled to Ladakh from as far afield as France and Australia for the ceremonies, as well as from nearby Bhutan -- where Drukpa is the official religion but with its own separate leadership -- and Nepal.
"Even beings in other realms wish for his presence, so these prayers show how much we want him here with us," said Choegon Rinpoche, a Drukpa monk overseeing the ceremonies.
Ladakhis from villages surrounding Shey, 15 kilometres (nine miles) south of the region's capital Leh, began trooping in from early morning for the day's festivities at the Naro Photang Puspahari temple.
"For 800 years we've been able to keep the lineage and we have to be proud of ourselves," the Gyalwang Drukpa, 44, told AFP ahead of Tuesday's ceremony.
The spiritual leader arrived after the longevity prayers to accept gifts from monasteries that included Tibetan thangka paintings, carpets and small statues of the Buddha.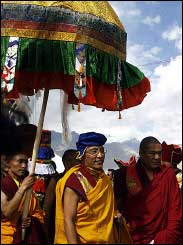 Spiritual leader of Drupka lineage, Gyalwang Drukpa(C) arrives at the Naro Photang
Puspahari temple
© AFP Manpreet Romana >>
"When you see him it brings tears of joys to your eyes," said Padma Dolkar, 28, a schoolteacher in Shey who was dressed in a goncha -- a long woollen robe -- and wearing traditional gold and silver jewellery.
A wide variety of headgear was on display, including top hats for men and embroidered silk hats with curving brims for women.
A statue of the Drukpa spiritual leader was paraded before the several thousand people sitting outside before being taken to be immersed in a lake.
A long line of villagers bearing ceremonial gifts snaked around the temple.
The sect, founded in the 13th century, is part of the Kagyupa tradition, one of the four main schools of Tibetan Buddhism that are sometimes also divided into two groups -- Red Hats and Yellow Hats.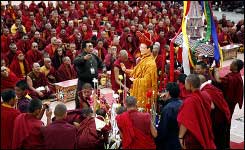 << Buddhist monks lead a procession carrying the statue of spiritual leader of Drupka lineage, Gyalwang Drukpa
© AFP Manpreet Romana
The Gelukpa, or Yellow Hat line headed by Tibetan spiritual leader the Dalai Lama, established its presence in Ladakh first -- but the Drukpa order gained favour under Ladakh's Namgyal royal dynasty in the 17th century.
Ladakh's largest monastery, at Hemis, 45 kilometres south of Leh, belongs to the Drukpa order but all four schools have "gompas" or monasteries here.
While the Dalai Lama's order is seen by some as more scholarly, the Drukpa sect places an emphasis on spiritual practices like meditation.
Buddhist leaders say the number of sects arose as a way to personalise the religion and make it more accessible.
"Like a company brings out different car lines, but they are all from the same company," the Gyalwang Drukpa explained.