India's Ladakhis look to museum, schools to protect culture
AFP, July 19, 2007
With a new museum in the revered Hemis monastery and more schools teaching its history, India's Ladakh region hopes to protect a culture that many fear is changing rapidly as tourism booms.
HEMIS, India -- Tens of thousands of tourists flock each year to the "Little Tibet" in the far north, an area noted for its stark mountain landscapes and summer festivities at the Buddhist monasteries dotting the province.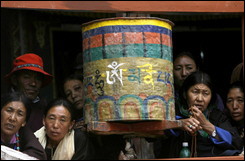 << Ladakhi women watch the arrival of the Spiritual leader of Drupka lineage Gyalwang Drukpa
© AFP Manpreet Romana
Last year 40,000 tourists, including about 26,000 foreigners, visited the province.
"Things have changed quite a lot in terms of values, traditions, culture," Jigmet Wangchuck Namgyal, of the Ladakhi royal family, told AFP at the museum's inauguration Wednesday.
"I think the main driver at the end of the day is tourism."
Namgyal, who would be king if royal titles had not been abolished decades ago, said the sudden influx of cash and interaction with outsiders was leading people to adopt different lifestyles.
"People do copy. A group of backpackers come and they have different values and it's a small community so it does have an effect," said Namgyal, who heads a cultural preservation group.
To provide a counterpoint to the impact of tourism, Ladakhi community leaders are restoring and displaying ancient Ladakhi artifacts -- some of which are in a state of terrible disrepair.
"We keep Ladakhi religious paintings and statues in boxes," said the Gyalwang Drukpa, head of the 800-year-old Buddhist Drukpa sect that founded Hemis monastery in the 17th century.
"To show respect we should take these things out for people to see."
Conservationist Tsewang Phunchok hopes the old manuscripts he began restoring two months ago will eventually be catalogued and used by Buddhist researchers.
"Seepage, fungus, mice," said Phunchok, reciting a litany of the ills affecting the 400-year-old manuscripts that were heaped in a dank and dusty room.
Tsewang Rigzin, a monk at the Hemis monastery, estimates the collection includes about 2,500 thangka paintings dating back to the second century, as well as some 1,500 statues.
"We have maybe displayed one percent of the collection," he said.
Ladakhis crowded the museum in the afternoon, bowing their heads before brass and gold statues and scores of embroidered silk tapestries depicting the life of the Buddha.
The Drukpa spiritual leader has also expressed his concern about the adverse affects of interaction with tourists on Ladakhis.
"You should be adapting yourself as a tourist to Ladakhis, not the other way," he told AFP, adding that education could help locals decide better what they should adopt or reject from outsiders.
But until recently, schools did little to promote the local culture among the province's population of 260,000.
Ladakh is nestled high in the Himalayas and is a part of India's Jammu and Kashmir state, where the official language is Urdu, so primary education took place in a language that none of the children speak at home.
At age 14 they would switch to English, the result being that 95 percent would fail school-leaving exams two years later, local officials said.
Those who could afford it sent their children to boarding school in neighbouring states. The result is that some of the best-educated young Ladakhis now converse more comfortably in the national language Hindi.
Rizin Ladol, 26, a history teacher at the Central Institute of Buddhist Studies, can not read or write in the Buddhist script.
"There were no good schools at the time," said Ladol, who spent her school years in India's Punjab state. "But the biggest disadvantage is that we have a certain aloofness from our culture."
In the last decade, with a push from an education reform group started by local students, more primary education has come to be conducted in English and the pass rate has risen to 50 percent.
"If you have a true education you will know how to draw the line," said the Drukpa spiritual leader, who six years ago founded the Druk White Lotus school which includes Ladakhi and local dances in the curriculum.
But one Ladakhi scholar said concern about the state of the culture may be exaggerated, even if some young Ladakhis seem more interested in "money, technology and cars" than thangka paintings and statues.
"Maybe if it is dying or half dead" you need to worry, said Ladakhi scholar Tashi Rabgais, as crowds of young monks and villagers thronged Hemis monastery.
"It is a living culture. There's no need of preservation. There is a need to adjust it to accommodate the new culture."