Legislators want Buddha statues in paddyfields protected
The Hindu, July 29, 2007
Tamil Nadu, India -- A statue of the Buddha in the taluk office at Ariyalur and several sculptures of the Buddha at Panruti town have disappeared recently, local despatches report.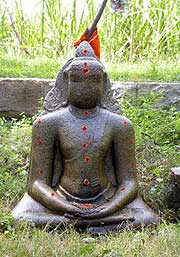 << The statue of the Buddha found on the Ariyalur-Lalgudi road, also in Tamil Nadu.
Two beautiful statues of the Buddha at Thyaganur near Salem were lying on a paddyfield, and another was inside a ruined structure at Peruncheri near Mayiladuthurai.
Specialists in the study of Jainism and Buddhism including D. Ravikumar, Dalit Panthers of India legislator, and Mr. Gandhirajan, specialist in art history, said scores of sculptures of the Buddha, Adinatha and Mahavira were lying on fields in different parts of Tamil Nadu and they wanted the Government to protect them.
"All these will become easy targets for idol-lifting gangs. We are now celebrating the 2550th year of the Buddha attaining Pari Nirvana. The Centre has allotted funds for the celebrations. The Tamil Nadu Government should build structures around all these sculptures of the Budddha and Mahavira to protect them," Mr. Ravikumar said.
Five months ago, Mr. Gandhirajan found an exquisite statue of the Buddha, about 10 km from Ariyalur on the Ariyalur-Lalgudi road in Tamil Nadu.
Stylistically, it was an important sculpture, which belonged to the 11th century A.D. T. Arunraj, Deputy Superintending Archaeologist, Archaeological Survey of India (Chennai Circle), and Gandhirajan found an unfinished statue of the Buddha in a mound near Balasamudram village, near Andipatti.
It belonged to the 11th century A.D. According to Mr. Arunraj, sculptures of Hindu deities and pot-sherds of the medieval period were found nearby.