Claims galore as Buddhist history claims new territory
by Parul Sharma, The Hindu, Aug 14, 2007
High time Orissa got its due as a prominent centre
NEW DELHI, India -- Even as there are claims and counter-claims about Lord Buddha being born in Kapileswar village near Bhubaneswar and not Lumbini in present-day Nepal as believed all along so far, an American anthropologist says it is time Orissa got its due as one of the most prominent centres of Buddhism in the world.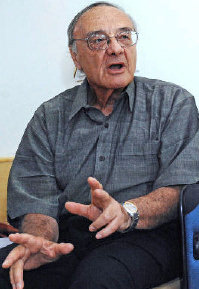 << Professor James Freeman in New Delhi. Photo: V.V. Krishnan
"The numerous Buddhist sites in Orissa, the antiquities and sculptures found there reflect many centuries of Buddhist tradition in the State. It is full of rich Buddhist heritage. Orissa has so far been overlooked as a hub of Buddhism," says James M. Freeman, Professor Emeritus in the Department of Anthropology at San Jose State University, California.
Prof. Freeman together with his filmmaker son Karsten Freeman and an Indian professor in the University of California, Annapurna Devi Pandey, shot a documentary film in Kapileswar and about 10 districts of Orissa capturing the Buddhist culture and tradition in the State.
Prof. Freeman is now on a personal visit to the country, his third trip. His bond with Kapileswar dates back to 1962 when he lived and worked in the village as part of his research project.
Birthplace
It was Dr. Pandey, who hails from Cuttack, who told him in 2005 about the villagers' conviction that Kapileswar was the Buddha's birthplace. This prompted him to go there once again.
"There was this new sudden excitement about the Buddha that I noticed there. The State Government was carrying out many excavations there and lots of local archaeologists and scholars were taking an interest in Kapileswar. The Head of the Orissa State Museum, C. B. Patel, made these claims based on the findings of a research team led by him that examined rocks, inscriptions and other materials found during excavations. He also highlighted the works of historian Chakradhar Mohapatra who was among the first ones to talk about this issue and gave conclusive evidence of Kapileswara being the original birthplace of Buddha in his book 'The Real Birthplace of Buddha'," says Dr. Pandey.
Mohapatra, claims Prof. Freeman, had also written about a stone pillar inscription of King Asoka discovered in Kapileswar in 1928 – which he claims is missing now -- that points to Buddha's birthplace being in Orissa.
"I went to the Ashutosh Museum in Kolkata where the stone inscription was said to have been kept. People there said they had not heard of any such stone inscription ever. That prompted us to begin our documentary. But when we began visiting sites in Orissa, we realised that there was a much bigger story," claims Prof. Freeman.
Material remains
"There were large domes, monasteries, sculptures and other objects of archaeological importance at these places. We visited at least a hundred Buddhist sites. We found Buddhist communities living there for generations. They are not converts but traditional Buddhists who have been living amicably with the Hindus for all these years. In Narsinghpur alone, there are about 10,000 Buddhist families. The Buddhist culture in Orissa is thriving, which not many people know of. Somehow Orissa has not been connected to the Buddha's life as it ought to have been done," he rues.
Asked if they concur with those who claim the Buddha was born in Orissa, the team says it is not their prerogative to take a position on this.
"We are not here to take sides. It is for the experts to prove or disprove this claim. We are here to give a platform to people's voices. I have lived in Orissa and got a lot of love and support from them even when the Indo-US ties were strained. I just want to give something back to the State, a legitimate significance to their ancient Buddhist sites," concludes Prof. Freeman, promising to come back in December with his team to shoot a film in Kapileswar.