Indian Ministers Refuse To Attend A Ceremony To Honor The Dalai Lama
by Mayur Pahilajani, AHN, November 3, 2007
New Delhi, India -- The Indian government asked its members to not attend a ceremonial function honoring the Dalai Lama in the capital on Saturday. The strict orders came in the wake of a statement made by the Tibetan spiritual leader accusing China of "demographic aggression" against residents of his Buddhist homeland.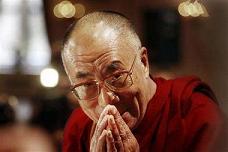 "The population of (Tibetan capital) Lhasa used to be 50,000 to 60,000. Now it is 300,000, of which 200,000 are Chinese," he said while Dalai Lama was in the U.S. receiving the highest civilian honor awarded by the US Congress.
India has improved its relation with China to maintain stability in South Asian region. As the fastest emerging economies, both the countries have also signed many trade agreements.
Dalai Lama, however, urged that the Tibetan issue must be solved in order to maintain a good relationship between India and China, PTI reported. India on the other hand do not want to offend China, which considers the Dalai Lama as "a separatist leader."
According to AFP, he also accused China of misusing a rail link connecting Tibet and China by saying that the railway was being used for "exploitation of natural resources."
The ceremony in New Delhi was organized by the All India Parliamentary Forum for Tibet along with the Gandhi Peace Foundation to honor the 72-year-old leader. He had returned from the U.S. after receiving the award.
Meanwhile, in a circular issued by the Cabinet Secretary K.M. Chandrasekhar stated "the function was not in conformity with the foreign policy of the government."