First Mongolian and Russian Buddhists festival kick starts in Dharamsala
By Phurbu Thinley, Phayul, November 7, 2007
Dharamsala, India -- A five-day joint festival of Buddhists from Mongolia and Russian Republics of Kalmykia, Tuva and Buryatia kick started yesterday morning with an exotic art exhibition displaying paintings, photos, and diverse souvenir products from the regions.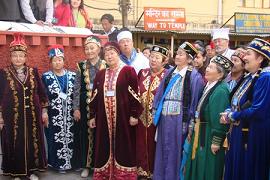 << Visiting Russian and Mongol Buddhists in their colourful traditional costumes during the opening function of the art exhibition, which kick started a five-day Buddhists Festival in Dharamsala.
Some 400 people, including media delegation, from the four states are currently in the small hilly town of Dharamsala to, what they say, showcase their rich and revived Buddhist culture.
Free cultural concerts are being scheduled in the evening of 7th, 8th and 9th November at the Tibetan Institute of Performing Arts.
Despite decades of Soviet repression, Buddhism survived in the Russian Republics and is now revived and said to be thriving vibrantly. Mongolia, a predominantly Buddhist state, too suffered cultural obliteration at the hand of communism.
Having relived the complete devastation, the Buddhist faithfuls from these regions who revere His Holiness the Dalai Lama as their spiritual leader, seek His blessings and guidance to continue strengthening the revival of their ancient Buddhist culture and practice to the glory of the yesteryears.
The delegation leaders, who spoke at today's opening function at the Tibet Museum, credited His Holiness as the very source of hope for Buddhism's revival in their countries.
Telo Rinpoche, the spiritual head of Kalmyk Buddhists and the man responsible for bringing the Buddhists festival to Dharamsala, the seat of the Dalai Lama led Tibetan Government-in-Exile, said, "Today Buddhism is once again blossoming in our countries due to His Holiness the Dalai Lama's blessing".
"We are thankful to His Holiness and the Tibetan Government-in Exile for being so supportive to us," Rinpoche said at the opening function attended by the Tibetan Prime Minister (Kalo Tripa) Prof. Samdhong Rinpoche as the Chief Guest of honour. Senior Tibetan Government officials were also present at function.
Buddhist people from the four different countries wore their traditional costumes, which won admiration of the Tibetan Prime Minister saying "It is delightful to see many of you in your traditional costumes, which clearly shows your effort to preserve your valuable ancient culture".
"We are not here for commercial purpose. We are here to strengthen and relive our ancient historical, cultural and religious ties through our Buddhists festival" Telo Rinpoche said in his welcome introductory speech.
"Unfortunately we are not able to do this in a 'Free Tibet'. And we hope it will happen someday," Rinpoche said, adding "I always tell my people that, we as an independent country must help Tibetan cause, but strangely we are still reliant on Tibetans in learning more to revive our endangered culture".
"Tibetan and Mongolian people and Buddhist republics of Russia share a long, very old and deeply rooted historical, cultural and religious ties. This has helped us to reunite and revive our ties now even after suffering long period of disconnection between us," Kalon Tripa Samdhong Rinpoche told the Buddhists gathering.
"As of now we have collective responsibility to ensure survival and preservation of Buddhism and its cultural values especially at critical times when we are facing persecution," Tibetan PM said. "Fortunately because of His Holiness the Dalai Lama's presence, even in exile, Tibetans have managed to sustain our unique and ancient Buddhist culture values" Kalon Tripa added.
His Holiness the Dalai Lama will give a one-day teaching on Lama Tsongkhapa's Three Principal Paths (lamtso namsum) on November 9 to the visiting Buddhist communities. On November 10, there will be a grand long life ceremonial offering to His Holiness by the Mongolian and Russian Buddhists.