Seeking Nirvana Under a Tree
By Anuj Chopra, US News, November 16, 2007
Bodh Gaya, India -- The Bodhi Tree's branches stretch out from its solid trunk, their distinctive heart-shaped leaves casting protective shade over those who sit beneath.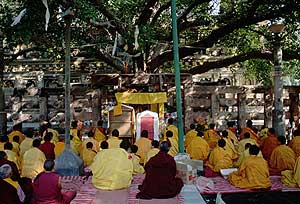 << Pilgrims pray and meditate under the Bodhi Tree.
(Michael Freeman/Corbis)
It was under just such a tree, here along the banks of the Phalgu River in northern India, that a young prince named Siddhartha Gautama, troubled by the world's miseries, sat in meditation some 2,500 years ago. And this is where he is believed to have attained nirvana, or supreme enlightenment, and become the Buddha, whose teaching would influence countless billions.
Today, the place known as Bodh Gaya embodies the rich culture of ancient Buddhist traditions. Located in a splendid temple complex is what is said to be a descendant of the fig tree under which Buddha sat—now revered as the Bodhi (enlightenment) Tree. It is perhaps the world's most venerated tree.
To the east of the Bodhi Tree is the ancient Mahabodhi Temple, its walls bearing scenes from Buddha's life. Inside, there is a gilded statue of the Buddha in a poised posture touching the earth with his right hand: Buddha is believed to have attained enlightenment in this posture. Also a part of the complex is an archaeological museum that contains a large collection of Buddha statues, in gold, bronze, and stone. The complex became a unesco World Heritage Site in 2002.
Spiritual awakening. Centuries after Buddha attained enlightenment here, Bodh Gaya evokes the potential of spiritual awakening for those who aspire to achieve it, says Prof. G. A. Somaratne, the head of the department of Pali and Buddhist studies at the University of Peradeniya in Sri Lanka.
Pilgrims, many of them in maroon robes, circumambulate the temple and the Bodhi Tree, performing prostrations and offering prayers in a multitude of languages. "This is the place where Buddha was 'born,' hence Buddhism was born," says Somaratne. "Even in the modern world, Bodh Gaya inspires pilgrims to seek spiritual awakening and thereafter be free from the endless cycle of birth and death."
Many nationalities. Apart from the Bodhi Tree and the Mahabodhi Temple, Bodh Gaya is home to numerous Buddhist monasteries. Each is built in a distinctive architectural style reflecting different national identities—Sri Lankan, Thai, Tibetan, Chinese, Vietnamese, and Nepalese—but all retain the identity of their common Buddhist faith. The Tibetan monastery houses a massive dharma chakra, or wheel of law, that represents the eight tenets of Buddhist life; the Thai monastery has gleaming gilded roofs and elegantly curved lines.
Inside, Buddhist values like renunciation and empathy for all living things are preached. Enlightenment—or at least transcendental peace—can be achieved even in the modern world, pilgrims are assured. That requires neither extreme self-indulgence nor self-mortification, they are told, but rather following a "middle path" of moderation in all things.
Ironically, this place of peaceful introspection is located in the lawless northern Indian state of Bihar, blighted by crime and a bloody Maoist insurgency. But that doesn't deter millions seeking to follow in Buddha's footsteps.