Dalai Lama says successor may not be from Tibet
AFP, Nov 27, 2007
AMRITSAR, India -- Tibetan spiritual leader the Dalai Lama said Tuesday that his successor will be chosen outside of Tibet if he dies in exile.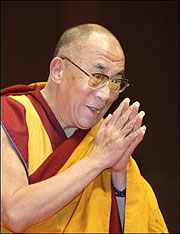 << The Dalai Lama: "If my death comes when we are still in a refugee status then logically my reincarnation will come outside Tibet"
"If my death comes when we are still in a refugee status then logically my reincarnation will come outside Tibet," the Dalai Lama said in an interview restricted to three journalists.
After nearly five decades in exile, the 72-year-old said he was looking at "different methods or ways" on the succession.
These included something "like the pope's election," seniority or someone who can succeed in the traditional way, but may still be outside Tibet.
"There are cases that a person before death is already chosen," he added but said he did not wish to elaborate on that.
"China of course will appoint someone else," he said in response to a question on Beijing's accusation last week that he was disrespecting Buddhist traditions after he first suggested he may name his successor before he died.
Speaking on the sidelines of an inter-faith meeting in this Sikh holy city in northern India, the Dalai Lama said "a serious succession process has not yet started," adding, perhaps tongue-in-cheek, "according to my regular medical checkup I am good for another few decades."
The Tibetan leader had announced in Japan last week that he was open to naming his successor before he died, but Tuesday he went further.
It would appear to go against centuries of tradition in which high-ranking monks choose the reincarnation based on a series of signals, but it also heads off plans by China's ruling Communist Party to select the new Dalai Lama.
China, which has ruled Tibet since 1951 and has violently crushed protests there, recently announced that so-called Tibetan living Buddhas needed permission from the government, officially atheist, to be reincarnated.
The Dalai Lama said a succession plan would include popular opinion from Tibetans living in China and the exile community.
He said there should be a Dalai Lama in Tibetan Buddhism, but noted a need for consensus on whether the post retains relevance.
"Should the Tibetan people in the hundreds of thousands like to continue with the Dalai Lama, (it) is important," he said.
Beijing views the Buddhist leader as a dangerous figure who wants independence for his Himalayan homeland.
But the Dalai Lama reiterated a constant theme that a misunderstanding remains on China's part about his goals, which he said remain cultural autonomy and a "middle way" of co-existing.
"I want to make it very clear: we are not seeking separation or independence," the Dalai Lama said. "We need money. We need modernisation. From the PRC (People's Republic of China) we get much benefit."
But he also said that Tibet was becoming the victim of "demographic aggression" because an influx of Han Chinese into cities such as Lhasa have lead to "some kind of cultural genocide."
The Dalai Lama fled Tibet in 1959 after a failed uprising against Chinese rule and has set up a government in exile in the Indian hill station of Dharamsala.
The 1989 Nobel Peace Prize winner maintains that he would like to talk with Chinese leaders. Beijing has had a series of meetings with his emissaries in recent years, but has not endorsed direct talks.