Vote to Be Held for Next Dalai Lama
By GAVIN RABINOWITZ, AP, Nov 27, 2007
AMRITSAR, India -- The Dalai Lama said Tuesday the Tibetan people will hold a referendum before he dies to decide whether a new system of leadership is necessary for the Himalayan people.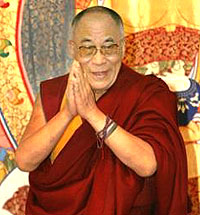 << Tibetan spiritual leader, the Dalai Lama, greets the audience upon his arrival to a seminar in Hachioji, western Tokyo, Wednesday, Nov. 21, 2007. The 72-year-old Nobel Peace Prize laureate, currently on a nine-day visit to Japan, warned that Chinese industrial polluters could damage the fragile environment of the Tibetan highlands. (AP Photo/Shizuo Kambayashi)
Just what form the referendum will take was not immediately clear, but he proposed what could be a major change in the centuries-old system to choose the spiritual and political head of the Tibetans.
"If people feel that the institution of the Dalai Lama is still necessary, it will continue," he told reporters during a gathering of religious leaders from around the world in this northern Indian city.
"When my physical condition becomes weak, then serious preparations (for the referendum) should happen," he said.
The Dalai Lama said the vote would be held among all traditional Tibetan Buddhists along the Himalayan range and into Mongolia.
For centuries, the search for the reincarnation of religious leaders, known as lamas — including the Dalai Lama, Tibet's spiritual head — has been carried out by Tibetan monks following the leaders' deaths.
But a recent order by China that Beijing must approve all lama appointments has led to concerns that the central government may forcibly select a pro-Beijing leader once the current popular Dalai Lama is dead.
China has ruled Tibet with a heavy hand since its Communist-led forces invaded in 1951, and it has accused the Buddhist monk of defying its sovereignty by pushing for Tibetan independence.
The Dalai Lama says he wants "real autonomy" for Tibet, not independence. He has lived with followers in exile in India since fleeing Chinese soldiers in 1959.