Holy Buddha tree damaged, greed root cause
IBN/AP, December 8, 2007
New Delhi, India -- Police have charged three people for chopping off a branch of the sacred Mahabodhi tree in Buddhism's holiest site Bodh Gaya, apparently to sell as them souvenirs.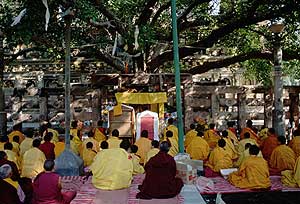 << Pilgrims pray and meditate under the Bodhi Tree.
(Michael Freeman/Corbis)
The accused belong to the temple administration who were entrusted with the responsibility of protecting the tree.
The incident allegedly took place in June when three men ordered a branch of the tree cut off, Pranay Kumar Singh, a lawyer who has filed a complaint in a local court was quoted as saying by AP.
After initial investigations, the Magadh Division Commissioner submitted his report in a Gaya court on Monday.
The report names three top officials of the temple - chief priest Bahadant Bodhipal, ex-officio secretary of the temple management committee Kalicharan Yadav and P R O Bhajju Yadav.
In June 2006, the state government had ordered an inquiry after a monk filed a criminal complaint against officials of the Temple Management Committee.
The incident was widely reported but the Nitish Kumar government was quick to issue a denial. After a worldwide hue and cry, the Bihar government sent samples collected from the affected part of the tree to a Pune-based lab to ascertain the truth.
Officials say the priests planned to sell pieces of the branch to pilgrims, who are known to pay up to US$10 for a single leaf of the tree that provided shade for Buddha's contemplations.
The next hearing in the case is scheduled for December 15 in Bodh Gaya, which is located about 880 kilometers southeast of New Delhi in Bihar.
Court officials could not be immediately reached for comment, and the chief priest, Bhadant Bodhipal, said only that the case ''has been filed at the behest of vested interests for petty gains.'' He did not elaborate.
Thousands of pilgrims visit the Mahabodhi Temple complex, a World Heritage site that marks the spot where some 2,500 years ago Buddha is believed to have attained enlightenment after intense meditation.