Ladakh Buddhists on the edge as India, China cosy up
by Kavita Suri, The Statesman, Dec 13, 2007
LEH, Ladakh (India) -- As India is diluting her support to the Tibetan cause for forging new ties with China, thousands of Buddhists living in this small region of Ladakh, neighbouring Tibet, are feeling threatened by the increasing closeness between the two neighbours.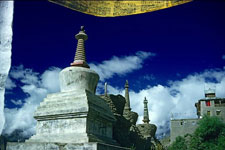 << A gompa (monastery) in Ladakh
These developments, the Buddhists of Ladakh say, will have a direct bearing on Ladakh "as China is on a rampage of Tibetan monasteries and heritage in that region".
"As both India and China are forging new ties, we believe that this development will have an impact on all of us Buddhists living in Ladakh," said Mr Tashi Targis, president, Himalayan Parivar, an umbrella organisation comprising various social and cultural organisations, including Himalayan Cultural Buddhist Association and Himalayan Committee for Action for Tibet, which support Tibet's freedom from China.
Living right on the Line of Actual Control (LAC) with China in Ladakh, Buddhists have very strong emotional and spiritual ties with Tibet. Not only Ladakh Buddhism draws inspiration from Tibetan Buddhism, but Buddhists feel closer to culturally and demographically. The increasing Chinese proximity with India has threatened this minuscule Himalayan community.
"China is on rampage and is attacking our cultural heritage with the objective to wipe out Tibetan Buddhism from the region," said Mr Targis while informing that in the past few months, three-four Buddhist monasteries in Tibet were damaged by China.
"Just a couple of kilometers from Kailash Mansarovar, Tarchin monastery has been damaged by China. Two more monasteries, each one of which was dedicated to Goddess Tara and Lord
Padamasambhava, have been damaged by the Chinese," said Mr Targis adding that this is being executed as part of a well-planned conspiracy to end left-over Buddhist influence on Tibet.
There were said to be over 6,000 monasteries in Tibet where over 20 per cent of the male population was resident. The Chinese invasion on Tibet in 1950's destroyed mant monasteries and allowed only some of the most famous to physically remain. Although there have been periodic liberalisations allowing a small number of people to become monks or nuns, this has fluctuated with the political whims of Beijing.
Dzogchen Monastery, one of the six great monasteries of the Nyingma tradition, the original Buddhist tradition in Tibet, located in Eastern Tibet in the Chinese province of Sichuan was destroyed by the Chinese in the late 1950s.
Another monastery Drepung which was the largest monastery in Tibet, housing 10,000 monks of the Gelugpa (yellow Hat) order, located a few kilometer west of Lhasa was also damaged. "One of the very important monasteries in Tibet, Samyas monastery which was set up by Guru Padamasambhava, has also been damaged by Chinese," said Mr Targis adding that Shogchag Gompa, situated ten kms away, has also been damaged recently.
Having faced Chinese aggression once in 1962 in which India lost a major portion of the Ladakh to China, the Buddhist community in Ladakh, which is largely influenced by Tibetan Buddhism, wants New Delhi to talk to China on the issue including independence for Tibet.
"Tibet is in a shambles today. The people are silenced violently; there is no freedom of faith. We want India to talk to Chin and His Holiness, the Dalai Lama over the future of Tibet and find a long lasting solution," said Mr Tashi Targis adding that the restoration of free and peaceful Tibet as envisioned by His Holiness the Dalai Lama will benefit the whole of Asia politically and environmentally.