New Nalanda would teach Buddhism and global warming
by ASHWANI TALWAR, Newind Press, December 18 2007
NEW DELHI, India -- In keeping with the times, students at the new Nalanda University would study subjects like global warming and business management.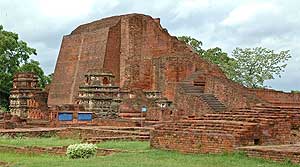 That can be figured after the second meeting this week-end of the Nalanda Mentor Group - a panel headed by Nobel laureate Amartya Sen – which is helping revive the famed university which drew the brightest students from across Asia and beyond. It could house upto 10,000 students.
At one time, Chinese monk-scholar Xuanzang (Hsuan Tsang, for those familiar with the old way of spelling him) was among them.
The new Nalanda too is being developed as an international institute. It is being revived through a collaboration of India and countries with a sizeable Buddhist presence. Heads of government discussed it at the East Asia Summit in Singapore last month, attended by Prime Minister Manmohan Singh.
By next year's summit, they hope the framework of the international university would be ready. And later, they plan to sign an inter-governmental agreement with everyone chipping in with the money.
At its peak, the University – set up near present-day Patna in the fifth century AD and laid to ruin by Bakhtiyar Khilji in the 12th – might have focused on religion and philosophy but it covered a wide range of contemporary knowledge. So would, it is hoped, the revived institute.
At the week-end meeting in Tokyo, the Mentor Group proposed that the Nalanda University in its new avatar would have six schools: Buddhist Studies, Philosophy and Comparative Religions; Historical Studies, International Relations & Peace Studies; Business Management and Development Studies; Languages and Literature; and Ecology and Environmental Studies.
The Mentor Group - which first met in Singapore in July and will next discuss the Nalanda revival in China – agreed that it would be "a secular academic institution."
According to the External Affairs Ministry, it resolved that the university should "draw on an understanding of the past while remaining contemporary and emphasizing its relevance to the future."