Nalanda varsity blueprint to be ready in 2008
Business Standard, December 19, 2007
New Delhi, India -- The blueprint for reviving one of the most ancient educational institutions of the world - the 1197 AD Nalanda University in Bihar - is expected to be ready by early next year.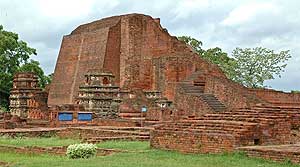 This was disclosed at the end of the second meeting of the Nalanda Mentor Group (NMG), headed by Nobel laureate Prof Amartya Sen, recently at Tokyo. The NMG, which was set up by the Indian government to set up an international university at the ancient Buddhist seat of learning, is being supported by Singapore, China and Japan.
The central government's proposal to take the east Asian countries with huge Buddhists population on board for the proposed university is also aimed at exploring the country's traditional relations with the Asian countries through the Buddhist route.
At Tokyo, the NMG decided that the university would have schools of Buddhist studies, philosophy and comparative religions; historical studies; international relations & peace studies; business management and development studies; languages and literature; and ecology and environmental studies.
The NMG members include Singapore's foreign minister George Yeo, government officials from China and Japan, Lord Meghnad Desai and Sugata Bose, a grand nephew of Netaji Subhas Chandra Bose who teaches at Harvard university.
Experts from Thailand, Sri Lanka, Cambodia, Korea, China and India are working on curricula and academic structure of the proposed university.
Though the idea of the university was first mooted in the late 1990s it was former President APJ Abdul Kalam's initiative in early 2006 that gave shape to the project. Kalam has already been offered the post of visitor in the proposed university.
The government has already started acquiring some 500 acres of land for the fully residential university, which would have 46 foreign faculty members and over 400 Indian academics.
At Tokyo, the NMG resolved that the vision of the university would be based on "a global philosophy while maintaining local relevance."
The Nalanda University is proposed to be an autonomous and a secular academic institution which would come into effect with the signing of an inter-governmental agreement between the participating countries.
The next meeting of the NMG would be held in China and later in India. The project has to be finalised before the east Asia Summit in 2008, where it would be placed for formal approval.