Statuesque witness to self-destruction
by Kavita Suri, The Statesman, Dec 22, 2007
LEH, Ladakh (India) -- Seven years ago, when the Afghan Taliban militia destroyed the Bamiyan Buddha in the war-ravaged country, an outcry was raised by the world community over the loss of the world heritage.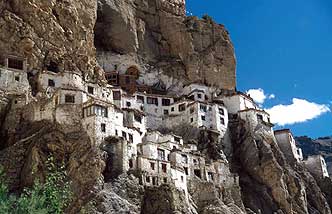 Lying on the famous Silk Route - a caravan route linking the markets of China and India with those of Central Asia, West Asia and Europe - Bamiyan remained an important Buddhist site and declared a Unesco world heritage site.
With Bamiyan in Afghanistan lost forever, many such Buddhist statues and monumental heritage similar to Bamiyan lying on the same famous Silk Route in Ladakh, could be lost forever if they are not preserved.
Dr Phuntsog Dorjay, a Ladakhi Buddhist researcher based in Germany, believes Buddhist rock sculptures in Ladakh are dying a slow death and in dire need of preservation.
"Many monuments of the early Buddhist era dot the Ladakh landscape. The Buddhist rock carvings of the region are scattered throughout Leh and Kargil and its surrounding areas, which from their form, dressing style and iconography, resemble the rock carvings prior to the influence of Tibetan art in the region.
"But these sculptures must be conserved otherwise, it would be a great loss to civilisation," said Dr Dorjey, who was in Leh recently.One of the five statues of Buddha in Ladakh, which are of the Bamiyan style, is a magnificent rock statue of Buddha as Maitreya, 45 km east of Kargil, on the road to Leh in Mulbek. About nine metres (30 feet) high, it is an imposing statue carved across a vertical rock-face and dates back to the period when Buddhist missionaries came travelling east of the Himalayas during the 7th and 8th centuries.
"Mulbek Gompa, the main monastery of the area, is perched atop a rocky hill that dominates the valley below. It is easy to see why in the past, this site served as an outpost to guard the caravan route between Kashmir and Ladakh," said Dr Dorjey, adding that another majestic Buddha statue lies in Sankoo, 42 km from Kargil in the Kartse Valley.
Kartse-Khar, an ancient village near the mouth of the valley, has a seven- metre tall rock sculpture of the "Future Buddha", evidence of the passage of Buddhist missionaries through the region during the 7th and 8th centuries AD.
Buddhism was firmly rooted in Ladakh in the 10th and 11th centuries. A number of majestic rock sculptures were carved mostly by missionaries on their way from mainland India to Tibet and other Central Asian countries, Dr Dorjey said.
Ladakh is dotted with hundreds of such rock sculptures but sadly, there is no awareness about this valuable heritage which is in grave danger.
"These rock sculptures bear testimony to the early introduction of Buddhism and Buddhist art in Ladakh from the Indian side, especially from Kashmir, but are in bad shape," said Dr Dorjey, who is at present based in Hannover (Germany).
"Already, we have lost 50 per cent of these sculptures on the Silk Route. There is little awareness among Ladakhis about the importance of these sculptures and their preservation," said Dr Dorjey, who regularly gives lectures on Himalayan Studies in Berlin University, Germany.
The rock sculptures of Ladakh, he added, reflect the influence of the Kashmiri style. The custom of carving colossal images from live rock in Ladakh may well have been inspired by carved relief in Swat Valley and Afghanistan.
Jammu and Kashmir power minister Mr Nawang Rigzin Jora said young Buddhist scholars from Ladakh should do further research in the area and spread awareness about their conservation among the masses, both at national and international forums, through their work.
"Ladakh, which holds a significant place in Central Asia, has a rich cultural heritage in the form of these rock sculptures which are usually found on the ancient trade routes passing through Ladakh," Mr Jora said, adding that history has been handed down to us mainly by the lamas or monks in the monasteries but young scholars from Ladakh should also embark upon scientific research.
Suggesting measures for saving priceless heritage, including documentation of all rock art sculptures, Ms Aparna Tandon, renowned art conservator based in Rome, said we should have a record of all the rock sculptures in the Ladakh region and the hill council or an NGO should initiate an effort to conserve them in their original form and shape.