Dalai Lama extends advance greetings for New Year and Losar
By Phurbu Thinley, Source: Phayul, The Buddhist Channel, December 31, 2007
Dharamsala, India -- His Holiness the Dalai Lama today extended a warm advance greeting for the New Year 2008 and Losar (Tibetan New Year) 2135 after finishing five days of teaching at the request of Mongolian Buddhists.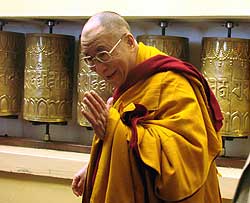 << His Holiness the Dalai Lama greets Buddhist devotees on Thursday as He leaves the Main Temple in Dharamsala after Mongolian Buddhists offered a grand long life ceremonial prayer (Tenshug) to him following five days of teaching by the Tibetan spiritual leader. (Photo by Phurbu Thinley/ Phayul)
His Holiness extended His New Year greeting at a religious ceremony this morning at the Tsuglagkhang (Main Temple) where he was offered a grand long life prayer (Tenshug) by the monks from the Gandan Thegchenling Monastery of Ulan Bator, Mongolia.
"New Year 2008 is around the corner and Losar is also coming soon as well. So I want to say Tashi Delek and Happy New Year to everyone," His Holiness said.
The Dalai Lama also asked the Mongol Buddhists present at the ceremony to pass on his New Year greetings to other fellow Mongolians back in their homeland.
"Enjoy the New Year with good spirit and make efforts to begin New Year with a commitment to evade wrongdoings and accumulate more merits," the Dalai Lama told a large audience of Buddhist devotees.
"This could help bring more happiness and prosperity into your life and country," the Tibetan spiritual leader added.
Some 250 Buddhists from Mongolia, mainly monks from the monastery, attended the five-day teaching that began on December 22.
Hundreds of Tibetans and, a sizeable Buddhists from Korea, Hong Kong and western countries attended the teachings that included the initial two days devoted to the conferment of the Jigjey (Yamantaka) Initiation (Lha Chusoom Jigjey Kawang) followed by three days of teachings on Lobsang Choekyen's Lama Choepa (Guru Puja) from December 23 to 26.