Dalit anger on monk's death keeps city on toes
TNN, Jan 8, 2008
MUMBAI, India -- The Dalit fury that was sparked off by the mysterious death of a Buddhist monk in Deonar on Sunday abated in the city a day later even as a post-mortem report showed hanging as the cause of death.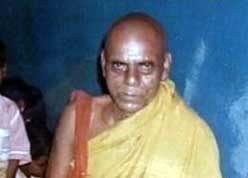 << WHODUNNIT? Bhanta Sanghraj Thero was found dead in his one room-apartment in Mumbai.
Sporadic and localised incidents of stone-pelting continued on Monday following violence on Sunday after the Buddhist monk Bhanta Sanghraj Thero was found dead.
In Deonar, where a mob went on a rampage on Sunday demanding action from the police on what they claimed was a murder, an uneasy calm remained for most of the day, broken by bouts of sloganeering.
Additional Commissioner of Police (East Region) Hemant Nagrale said: "The situation was tense but peaceful. The body was sent for a second post mortem and the findings are awaited."
The first post-mortem report of Bhante Sangaraj Thero, the priest of a Buddhist temple opposite the Deonar abattoir, was "inconclusive".
Shops in several areas remained shut-along P L Lokhande Marg in Chembur, in Deonar, in Dighe and Airoli in Navi Mumbai and some parts of Thane.
"There were some tensions in New Panvel, but with the police chipping in, the situation calmed down. Shops were also closed in Panvel, Kalamboli and Kamothe, but it was peaceful," said Deputy Commissioner of Police (Zone II of Navi Mumbai) Pravin Pawar.
Shops and establishments stayed partly closed in Thane, and neighbouring Ulhasnagar , Ambernath and Badlapur. No violence was reported.
The followers of the monk were pacified with an assurance that an independent inquiry would be conducted to ascertain the cause of his death.
The police have sent the corpse for a second analysis to confirm the findings.