Hundreds protest facelift for Buddhist holy town
IANS, Jan 16, 2008
Patna, India -- Fearing displacement and loss of livelihood if the government's master plan for Bihar's Buddhist holy town of Bodh Gaya is implemented, hundreds took out a silent march to protest the proposed facelift of the town that is visited by thousands of tourists every year.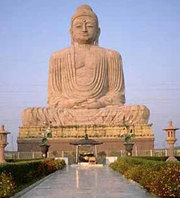 << Big Buddha in Bodh Gaya
Several business organisations, hotel associations, travel agencies, footpath traders union and several other trader organisations took out the march Tuesday hours before Chief Minister Nitish Kumar inaugurated the eighth Buddha Mahotsav in Bodh Gaya.
The Bihar cabinet had approved the Bodh Gaya master plan Sep 30 last year. The plan proposes to increase of the size of the town from its present 1,700 acres to 3,307 acres. The traders allege that this would include taking all the business and commercial activities to be taken outside the town limits.
Even some visiting foreign tourists also opposed the master plan and supported the local people.
Sources in the district administration say all construction activities within 500 metres of the famous Mahabodhi temple has been prohibited.
The 1,500-year-old temple was declared a World Heritage Site in June 2002, becoming the 23rd site in India to be so honoured. Buddha had attained enlightenment 2,500 years ago near this temple.
Faced with a Unesco threat to revoke the Mahabodhi temple's World Heritage Site status, the Bihar government had requested the housing and urban development corporation (HUDCO) to frame a master plan for its maintenance.
Unesco has threatened to revoke the heritage status conferred on Mahabodhi temple if the state government continued to flout its safety and maintenance guidelines.
The Bihar urban development department had assured Unesco that its guidelines -including the enforcement of a strict ban on all construction within one kilometre radius around the temple - would be strictly followed.