CIHTS to confer Honorary Degree on Dr Abdul Kalam
Phayul, March 1, 2008
Dharamsala, India -- The Central Institute of Higher Tibetan Studies will confer an honorary degree on Dr A P J Abdul Kalam, former President of India.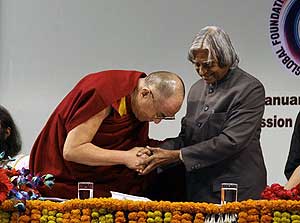 << Tibetan leader His Holiness the Dalai Lama greets former President of India, Dr A P J Abdul Kalam at the launch of the Global Foundation for Civilisation Harmony [India] in Delhi on Tuesday, January 22, 2008. (Photo by Tenzin Dasel / Phayul.com)
Dr Kalam will receive an honorary D.Litt. (Honoris Causa) Degree at the 13th convocation ceremony of the CIHTS on Thursday, March 6, 2008, at the institute's Atisha Hall.
The Tibetan higher learning institute will also confer the honorary degree on Prof. Ajan Sulak Sivaraksa, an internationally renowned Buddhist scholar from Thailand. Mr Sulak is also the founder and president of the International Network of Engaged Buddhists.
During the convocation, the institute's director Prof. G. N. Samten will award the Degrees to the students who have successfully completed and passed their examinations in the fields Buddhist Philosophy, Tibetan Medicine (Bhot Chikitsa Vidya) and Tibetan Astrology (Bhot Jyotish) during the academic session 2005 – 2007.
Vidya Varidhi (Ph.D), Acharya (M.A.), BTMS (Bachelor of Tibetan Medicine and Surgery) and Shastri (B.A.) degrees of the institute will be conferred on the students.
The CIHTS was established in 1967 under the active consideration of His Holiness the Dalai Lama and India's then Prime Minister Pandit Jawaharlal Nehru with a view to educating the youths of Tibet and Himalayan border students of India who had lost the opportunity of living in Tibet for advanced studies and religious discourses in Buddhism that had been their natural milieu.
In the beginning it functioned as a special constituent wing of Sampurnananda Sanskrit University, Varanasi and was later declared as a "Deemed to be a University" on 5th April, 1988.
Over the years, the institute achieved its goal of excellence in the field of Tibetology, Buddhology and Himalayan Studies.
CIHTS is also a premier Research Institute, with a substantial staff of research scholars and many visitors from other academic Institutions in India and from around the world. It provides a platform for interaction between Buddhist and non-Buddhist Indian philosophical schools; between Buddhist and Western Philosophers; and between Buddhist scholars and scientists.