'Bhoomi Pooja' for Buddha Temple in Tamil Naidu, India
Chennai Online, March 4, 2008
Tiruchirapalli, India -- The 'Bhoomi Pooja' (ground breaking ceremony) was performed for the construction of a new temple for Lord Buddha and Kadhikamam Murugan at Perur Village near here in the presence of Former Sri Lankan Minister Jayalath Jayawardhana and a few prominent Buddhist monks from Sri Lanka.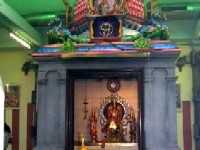 In his address, Mr Jayawardana said the proposed temple would help further strengthen cultural relations between India and Sri Lanka.
He said the project did not involve politics or any other motive other than religious aim.
The separate temple for Kadirkamam Murugan would be a replica of the temple in the island nation and the first outside Sri Lanka for the deity, he claimed.
A branch of the holy 'Bodhi' tree will be brought from the famed Anuradhapura in Sri Lanka. The temple design will be similar to the one at Kathirkamam in the island nation. A holy Bodhi plant brought from Sri Lanka was planted by the Buddhist monks and others at the site.
After the 'Bhoomi Pooja,' Dr B Seevali Anunayaka Thero, Director and Chief Incumbent, told newsmen the plant was brought to Sri lanka from here and now they were 'returning it with gratitude' to India.
The Lanka-based Maha Nayaka of Shayamopali Mahannikaya Asgiriyan Chapter planned to establish three Buddhist temples in Tamil Nadu at Tirutani, Tiruchirapalli and Tirunelveli to mark the 2,500 Samburtha Jayanthi.
The Buddhist temple at Tirutani had already been dedicated to the nation. The 'Bhoomi Pooja' for construction at Tirunelveli will be held tomorrow.
Mr Thero said he had been nominated as the Chief Executive Buddhist Monk for these projects which were expected to be completed by next three years.
Meanwhile, police secured a group of Periyar Dravidar Kazhagam volunteers who attempted to show black flags against construction of the temple.- Bureau Report