Display of solidarity by Himalayan Buddhist community
By Tenzin Chodon, Phayul, March 19, 2008
Dharamsala, India -- Deeply concerned with the violent crackdown by the Chinese authorities on the Tibetan protestors in Tibet, almost 700 members of the Himalayan Buddhist Cultural Association from Ladakh (J&K), Lahaul and Spiti (Himachal Pradesh), Uttarkashi, Sikkim, Monpa (Arunachal Pradesh) and Nepal led a peaceful demonstration this morning in the Indian town of Dharamsala.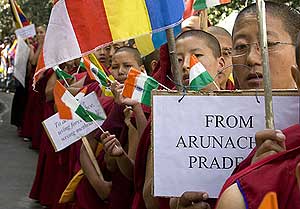 Showing solidarity and support with the Tibetan people, the association condemned the military action of the Chinese Government for crushing the peaceful protest by Tibetans in Tibet.
They strongly urged to immediately stop the ongoing brutal acts of suppression inside Tibet and demanded the release of all Tibetans imprisoned during the recent demonstrations.
Accusing the Chinese Government of broadcasting altered and fabricated news through their own set-up media and not allowing international news channels to cover the real situation inside Tibet, the association requested people from all parts of the world to look into the real picture and not be misled.
The Himalayan Buddhist Cultural Association made an appeal to the Indian Government to allow the ongoing 'Return March to Tibet' and support Tibet's rightful and non-violent struggle to accomplish their goal to return to their own motherland.
Appealing to the Government of India and the International community to interfere in the current issue of Tibet, the association stated that the solution to the issue of Tibet is in the interest of India's own security. The association asked the Government of India to work on the resolution of the Tibet issue and press upon the Chinese authorities to continue the dialogue with His Holiness the Dalai Lama.
The Association made a request to the International community and the Indian Government to send medical aid to those who were fatally and seriously injured in the recent demonstrations in Tibet saying Chinese authorities have closed down all hospitals except for Chinese army hospitals.
The Himalayan Buddhist Cultural Association (HBCA) is a non-profit humanitarian organization registered under the Government of India. The organization was set up in 1985 to preserve and promote Buddhism in the Himalayan regions of India.