Dalai Lama in Delhi for Buddhist discourses
Indo-Asian News Service, March 21, 2008
New Delhi, India -- The Dalai Lama arrived in New Delhi on Friday evening for a week of Buddhist discourses, hours after a group of Tibetan youth managed to scale the Chinese embassy compound wall in New Delhi to protest Beijing's crackdown in Lhasa.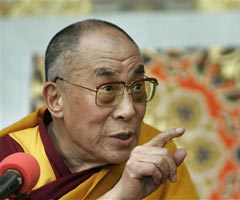 The Dalai Lama reached New Delhi around 7.30 on Friday evening and will stay at the Ashoka Hotel. "His holiness the Dalai Lama will be in the capital March 22-29 to give a teaching on Buddhist philosophy. This has been planned since last year," Kalsang Yudon, secretary of the Dalai Lama, told IANS.
She added that he has no plans to meet members of the press or issue any statements during his stay. To a query if the Dalai Lama had heard about protesting Tibetan youth entering the Chinese embassy, she said, "I don't know."
The Dalai Lama, who has been living in exile in Dharamsala, Himachal Pradesh, since 1959, will meet Vice-President Hamid Ansari. This was revealed by External Affairs Minister Pranab Mukherjee, who stressed that India has always recognized the Tibetan Autonomous Region as part of China.
"India's one-China policy remains unchanged. There is no review of that," Mukherjee said.
Earlier, the Tibetan spiritual head who favours autonomy for Tibet met US House of Representatives Speaker Nancy Pelosi in Dharamsala, the seat of the Tibetan government-in exile. Pelosi extended her support for the Tibetan cause and called for an international independent inquiry into Chinese allegations that the Dalai Lama was behind the Lhasa riots.
In New Delhi, the Dalai Lama will speak on meditation and chapters of Buddhist philosophy such as wisdom teaching.
"His teachings, which will be held everyday for four hours, will be attended by more than 150 people. All the people had registered themselves last year," Yudon said.
The 73-year-old leader, who won the Nobel Peace Prize in 1989, this week threatened to resign as the head of the Tibetan government-in-exile if the Chinese crackdown on ethnic Tibetan protesters in Lhasa escalated.