Kushok Bakula Rinponche born again in Ladakh
By Jigment Angchuk Nubra, ANI News service, March 27, 2008
Ladakh, India -- A two-year-old boy, Thubstan Nawang has been identified as the reincarnation of the Indian Buddhist saint, Kushok Bakula Rinpoche.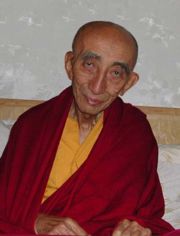 << A 2 year old boy Thubstan Nawang, has been identified as the reincarnation of one of India's revered Buddhist monk, Kushok Bakula Rinpoche (picture)
Nawang who has been identified as the reincarnation of Bakula hails from Kiager village in Nubra valley in Ladakh.
Dalai Lama and a team of scholars from Ladakh chose Nawang as the reincarnation of Bakula.
"Bakula's reincarnation was confirmed by his holiness the Dalai Lama. When the reincarnation has taken place in Nubra valley, monks of Spituk Monastery, particularly the older members and the masses are overwhelmed and expressed their desire to see the anointed one. But, the monastery has norms where they have to fulfill religious formalities after which they can see the blessed child," said Ven. Hupstan Paldan, a Buddhist scholar.
Nawang, was born to parents Dorje Tsering and Sonam Dolma. While the father is in the army, his mother attends to the family's agricultural holdings.
It is said that the child's mother had dreamt of her son being anointed as Bakula.
Since the boy is too young to be inducted into the monastic order, he will first be trained in the monastic way of life.
When he grows up, a coronation ceremony will be held where he will formally take the seat of Bakula at Spituk Monastery.
Bakula, the highest Buddhist Lama of Ladakh is considered to be the incarnate of one of the 16 Arahats of Lord Buddha's time and is not only known for his religious services, but is also the most revered leader of Ladakh of post-independence.
About Kushok Bakula Rinpoche
Bakula Rinpoche was born in May 21, 1917 into a noble family of Ladakh, India. He was recognized by the Thirteenth Dalai Lama as a reincarnation of Bakula Arhat - one of the Sixteen Arhats (direct disciples of the Shakyamuni Buddha).
As a Buddhist leader, he guided his followers through his personal example of a humble life as a celibate monk. He dedicated his life to the core principles of Buddhist teaching by caring for others, especially for those who were less fortunate and in great need.
He was deeply engaged with a number of welfare and minorities' right issues from remote places like Ladakh to the vast areas of Scheduled Casts and Tribes in India. His support, enthusiasm and determination played an important role in helping the Ladakhi people sustain their ancient Buddhist religion in the controversial political environment of the State of Jammu and Kashmir. As a man with a great sense of practical reality, he was a guiding spirit for Ladakhi people to develop their way of life through a combination of traditional and modern education. This won him the title of "The Architect of Modern Ladakh".
Though he made no claim to being a Tibetan leader, many of his works, dedicated to mobilising support for the Tibetan refugees when they first arrived in India seemed to make him one in practice. He was highly revered as a Lama and greatly respected as a human rights campaigner by the Tibetan people. To His Holiness the Dalai Lama, Rinpoche was a close friend and a dedicated fellow advocate of Buddha Dharma.
Bakula Rinpoche passed away in Delhi, India on November 4, 2003.