Gaya shrine suffers civic delay
Telegraph India, April 9, 2008
Bodh Gaya, India -- Plan to demolish illegal constructions around Maha Bodhi Temple has suffered a setback, yet again.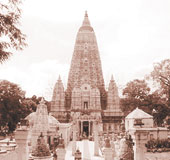 This is the second time that the Gaya Municipal Corporation has failed to carry out a demolition drive within the deadline period of the third week of March. The last deadline expired in November 2007.
This time the civic body had served notices to building owners, including 12-and-an-odd foreign monasteries, to pull down illegal structures voluntarily, else municipal bulldozers would do the job, they had warned. Even two weeks after the deadline, bulldozers are nowhere to be seen.
According to the civic body plans, an area of 500m on all four sides of the shrine's boundary was to be developed as a "buffer" zone — an idea propounded by Unesco that recently notified the shrine as a world heritage site.
Unesco hoped that the state and Union government would protect the site from pollution emitted from fuel-operated vehicles that are left free to play around the site.
More than two years ago, a proposal to enforce a ban on fuel-driven vehicles and replace them with battery-operated ones in the temple township (much on the pattern of the Taj Mahal) was mooted. Two points on the western and northern outskirts of Bodh Gaya were identified as terminals for fuel-driven vehicles. But, battery-operated cars that were to replace the vehicles are yet to arrive in Bodh Gaya.
Asked about the municipal body's failure to carry out the demolition drive, Gaya commissioner S.K. Tiwari said the government has constituted a committee to look into the complaints of those likely to suffer from the drive. He added that "future operations" would be planned in accordance with the committee guidelines.
Though the deadline expired on March 20 and the civic body received the communication regarding the committee two weeks after the deadline, the body's reluctance, it seems, has emboldened violators in Bodh Gaya.