Spreading 2,500-year-old teachings
The Times of India, May 14, 2008
BANGALORE, India -- "A lotus grows out of mud, yet it remains unaffected, unstained by the dirty, stagnant water. You are lay people; you live in the world and yet you can lead a spiritual life. It is spiritual values that bring real beauty, colour and fragrance to human life. Without spiritual values, human life is like a flower tree without flowers!" So preached Gautam Buddha more than 2,500 years ago.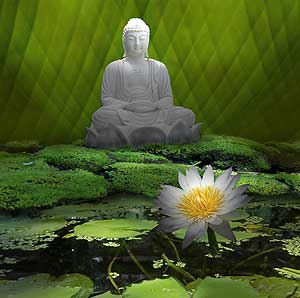 And practising such simple preachings is a thriving Buddhist community in the city. There are around 1,000 Buddhist families in Bangalore.
"More and more people seek to return to spiritual values in today's materialistic world. People from all walks of life - scientists, professors, artists, managers, academicians - are following Buddha's path. People belonging to different religious backgrounds are showing interest in the study and practice of Buddhism," said vice-president of Maha Bodhi Society, Bangalore, Ananda Bhanteji.
He added there are three groups of Buddhists: the traditional ones, the intellectuals and the dalits. It's the intellectual and dalit groups that are active and they have taken to Buddha's teachings as inspiration for reasoning and logic. Most Buddhists in the city are so by birth, while some have converted. On three occasions - Buddha Jayanti on May 19, July full-moon day 'dharma' and the October full-moon day 'Sangha,' - the community gets together, usually wearing white, to celebrate.
They follow dhyan, dharma and sangha. They recite the 'Panchashila' every morning, light candles and offer flowers to Buddha. 'Compassion' and 'love' - both of great relevance in the present age - are the basic foundations of Buddhism. It does not encourage followers to go by beliefs of sacred books but encourages freedom of thought. It is not necessary for one to convert but the most important aspect is to follow the principles of Buddhism, said Ananda.
Maha Bodhi Society, Bangalore is engaged in several spiritual and welfare activities. It has a monastic institute, conducts weekly meditation classes, publishes books and magazines and runs schools and hospitals.
What is Buddha Jayanti?
Buddha Jayanti or Buddha Purnima is the most sacred festival of Buddhists. It is the birth anniversary of Lord Buddha and falls on the full moon of the fourth lunar month (month of Vaisakh).
The day commemorates three important events of Buddha's life, his birth, his enlightenment and his attainment of Nirvana.