Call for peace, harmony
The Telegraph of India, May 20, 2008
Jamshedpur, India -- The 2552nd birth anniversary of Gautam Buddha was observed religiously in the steel city today.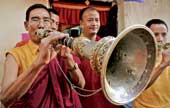 << Buddhist monks from Darjeeling blow a traditional musical instrument on the birth anniversary of Gautam Buddha on Monday. Picture by Prashant Mitra
The celebrations took place on the premises of Bodhi Society in Sakchi amid a huge gathering. Members of 125 families in the city got together to pay tributes to the religious leader.
"Buddhism has been acknowledged as the most moderate path. Buddha's teachings have assumed more significance in today's world, where people are fighting for even the slightest of reasons and the enemies of peace are hell-bent on destroying the harmony of the world," said Sunita Nanda Bhikkhu, the visiting monk who had touched base from Bodh Gaya on the auspicious occasion.
The day's events consisted of a prayer for world peace accompanied by a fruit distribution ceremony at the cancer hospital and the hoisting of the international peace flag on the premises of the society.
The programme, which was inaugurated by some of the eminent personalities of the city, including Swetabh Suman (assistant commissioner of income-tax) and Sudipto Mukherjee (a Lions Club member), proved to be the most effective for the advocates of peace and communal harmony.
"Police, administration and courts will not be required at all if people follow the moderate path of peaceful co-existence based on the path shown by Lord Buddha," said N.B Barua, the patron and former secretary of the organisation established in 1956.
Cultural programmes presented by members of the community was the highlight of the day. The followers of the religion congregating on the premises of the Bodhi Society offered prayers to the Bodhi tree planted inside the organisation premises.
The bhikshus also did the same in the morning.
Members of the Bodhi Society are planning to get a statue of the Lord from Thailand, which they would place inside the main worship area.
"Talks have been initiated for bringing a statue of the Lord from Thailand soon. There are also plans of constructing a building adjacent to our society. Buddhism will be preached at length to those interested in getting a firm grasp over the religion," added another member of the society.