Dalit leader demands Buddhist control over Bodh Gaya temple
IANS, May 21, 2008
Patna, India -- Dalit leader and Republican Party of India (RPI) MP Ramdas Athavale has come out in support of monks demanding Buddhist control over the Mahabodhi temple in Bodh Gaya, Buddhism's holiest shrine.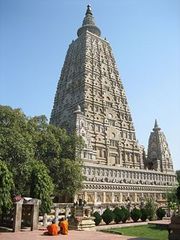 "We strongly favour Buddhist control over the management of the Mahabodhi temple and to ensure it we seek an amendment to the Mahabodhi Temple Management Act, 1949,"' said Athavale, who is also president of the RPI-Athawale.
Athavale, who visited the temple at Bodh Gaya, about 110 km from here, told IANS over telephone Wednesday that he urged the Bihar government to initiate the process for an amendment to the law.
According to the law, the Bodh Gaya Temple Management Committee (BGTMC) should comprise four Buddhists and the same number of Hindu members for a three-year period with the Gaya district magistrate as its ex-officio chairman and the mahant or the presiding priest of the Sankaracharya Math (Saivite monastery in Bodh Gaya) as ex-officio Hindu member.
The state government nominates a Hindu as chairman when the district magistrate is a non-Hindu.
Athavale said there should be five Buddhist members in the BGTMC and three Hindu members and the clause about only district magistrate's religion should be removed.
The temple got a governing panel last week after a gap of eight months.
Various groups of Buddhist monks have been fighting for over a decade and a half seeking an amendment to the law so that management can be handed over to Buddhists.
The 1,500-year-old temple at Bodh Gaya, where the Buddha attained enlightenment 2,550 years ago, was declared a World Heritage Site in 2002 by Unesco.