Dalai Lama begins Buddhist holy month with prayers for quake victims
By Pburbu Thinley, Phayul, June 5, 2008
Dharamsala, India -- Tibetans spiritual leader His Holiness the Dalai Lama presided over a special prayer session dedicated for the victims of last month's devastating earthquake that rattled Southwest China's Sichuan province here this morning.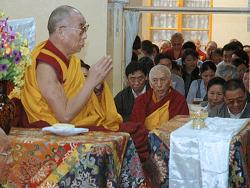 << His Holiness the Dalai Lama offering prayers during the special prayer congregation for victims of May 12 earthquake in China at the Tsuglagkhang (main temple), Dharamshala, India, June 4, 2008.
More than 2000 people, including Tibetan Buddhist monks, nuns and foreign devotees, joined the prayer gathering here today, which also marked the beginning of Buddhist holy month of Saka Dawa, the annual festival that represents the three most important events of the life of Lord Buddha - his birth, enlightenment and parinirvana.
Tibetan Buddhists believe during Saka Dawa, the fourth month of the Tibetan Lunar calendar, the karmic results of virtuous and non-virtuous actions are magnified. A spiritual undertaking in this month and more particularly later on its full moon day is believed to enable a person to accumulate maximum merits in one's life, hence the most auspicious time to engage in virtuous deeds.
The prayer, which lasted more than an hour this morning, was organized by the Tibetan Government-in-exile (TGIE) through its Department of Religion and Culture at the Main Tibetan Temple (Tsuglagkhang).
Prime Minister (Kalon Tripa) of the Tibetan government Prof. Samdhong Rinpoche and, other senior Government officials and staff attended the prayer session.
Ven. Tsering Phuntsok, Minster for Religion and Culture, said the grand prayer congregation led by the Dalai Lama was dedicated for the "well being of all sentient beings, and particularly for the enormous suffering caused to over 15 million people" affected by the earthquake.
A major earthquake measuring more than 7.8 on the Richter scale jolted Wenchuan County in Sichuan Province on May 12, the death toll from which rose on Tuesday to 69,107, with another 18,230 missing, the Chinese state media reported. Another 373,577 people reportedly sustained injuries in the May 12 quake, China's worst natural disaster in a generation.
Wenchuan, located some 146 km to the northwest of Chengdu, provincial capital of Sichuan, lies in southeast part of the Aba (Tib: Ngawa) Tibetan and Qiang Autonomous Prefecture and has a large ethnic Tibetan population.
"Through this grand prayer ceremony, the Kashag prays for all the quake victims, including those who died in the recent earthquake and their families as well as for the speedy recovery of all those injured during the disaster," press statement of the Kashag (Cabinet body) of the TGIE stated. "Kashag also prays that natural calamities such as these may never occur in any part of the world" it added.
Similar prayer sessions are also being conducted in other Tibetan settlements.