Low-key birthday for Dalai Lama
CBC News, July 6, 2008
Dharmsala, India -- The Dalai Lama marked his 73rd birthday on Sunday without the usual fanfare of a public party.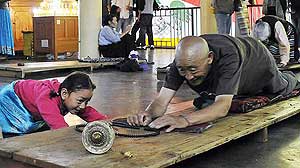 << A child in traditional dress plays as an elderly Tibetan prostrates in prayer at the Tsuglakhang temple in Dharmsala, India, Sunday. About 2,000 Tibetan exiles gathered at the temple to mark the birthday of the Dalai Lama. (Ashwini Bhatia/Associated Press)
A spokesman for the Tibetan government-in-exile said it won't be holding celebrations because of the ongoing suffering of the people in Tibet.
"Tibetans all over the world will be praying today for the long life of the Dalai Lama. But as the situation in Tibet continues to be bad, we have decided to not hold any cultural song and dance event to mark the event," said Thupten Samphel.
In past years, supporters of the Buddhist spiritual leader have watched cultural performances in the northern Indian city of Dharamsala.
But this year, Dalai Lama held a low-key function for relatives and Tibetan officials at his home in Dharamsala, according to Samdhong Rinpoche, prime minister of the Tibetan government-in-exile.
The Dalai Lama fled to India amid a failed uprising in 1959 and has since campaigned for greater freedom for Tibetans to practise their culture, language and religion. He has repeatedly denied he's fighting to have the region split from China.
Tibetan activists allege that violent anti-China protests that started in the Tibetan capital Lhasa in March resulted in a clampdown by the Chinese authorities and many deaths and arrests in the region.
Rinpoche said his officials are disappointed by the lack of any progress during talks between the Dalai Lama's envoys and China last week.
Two special envoys of the Dalai Lama returned Thursday from Beijing after two days of talks with Chinese government officials, a session the Tibetan representatives described "one of the most difficult so far."