India's New Buddhists
By JYOTI THOTTAM, Time Magazine, July 17, 2008
New Delhi, India -- Neha Mohan was 24 years old and living the new Indian dream, with a job at a New Delhi marketing firm that hitched her wagon to the country's chugging economy. And then she let it all go.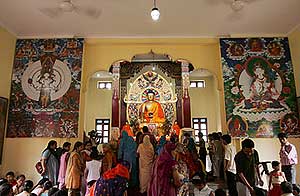 << Indian Buddhist devotees offer prayers at a Buddhist temple during the Buddha Purnima Festival in New Delhi
MANAN VATSYAYANA / AFP / Getty Images
"I wasn't satisfied," she says over a cappuccino in a shopping mall on the city's southern fringe. Mohan decided to ditch business and study French. With a widowed mother to support, Mohan says her family couldn't understand why she would turn her back on so much opportunity. "There was a lot of pressure," she says. But like many other urban, educated Indians, Mohan, now 29, has found strength and solace in Buddhism.
The faith that was started 2,500 years ago by a worldly, disaffected Indian prince, Siddhartha Gautama, is finding new adherents among the modern princes and princesses of the country's prosperous élite. They're facing some of the same tensions that have made Buddhist practice so popular in the U.S. and Europe.
"As in America, there are all kinds of new pressures that are at work on people, all kinds of mental stress," says K.T.S. Sarao, a professor of Buddhist studies at the University of Delhi. The wealth created by India's technology boom has brought with it the realization that material comfort isn't the same thing as happiness. Caught in that tender trap, Sarao says, "People turn to meditation."
But while Buddhism in the West might carry with it a hint of the exotic, here the appeal has more to do with its simplicity and pragmatism. That's what has drawn so many New Delhi yuppies to Soka Gakkai, a lay Buddhist movement whose extensive land holdings and political influence have sometimes made it controversial in Japan, where it was founded. Soka Gakkai has had a tiny presence in India for decades. But the group has blossomed in the last eight years, growing from 5,000 to 35,000 members — 20,000 of them in New Delhi alone.
The core of the Soka Gakkai practice is the chanting of the phrase nam myoho renge kyo — "I devote myself to the mystic law of the Lotus Sutra" — but it is otherwise stripped of mysticism or ascetic self-denial. It teaches a mix of personal affirmation, positive thinking, and the basic Buddhist principles of peace and non-violence. Saurabh Popli, a lanky, 34-year-old architect, says he found in Soka Gakkai "a philosophy that can help us navigate these incredibly complex lives that we're living." He adds, "It doesn't require me to live in the mountains. It's a pragmatic way to live my life." Sunita Mehta, 60, a non-profit executive who's been part of the group for 13 years, says she's noticed that the newer members aren't the typical spiritual seekers: many are scientists, doctors or academics. Members chant privately, but meet regularly in each other's whitewashed apartment buildings and bougainvillea-shaded homes. They come, Mehta says, looking for a safe place to talk about their tough bosses and bad breakups. "These are not the things that you can take to the normal Hindu priest," she says.
Other established schools of Buddhist thought, like vipassana meditation and Tibetan Buddhism, are finding a newly receptive audience India as well. These new Buddhists don't convert officially; they simply take up some form of the practice, usually chanting or meditation, and often continue to observe the same holidays and family rituals they always did. That's another part of Buddhism's appeal in India, Sarao says. In a country where so much of social life revolves around religious festivals and ceremonies, Indians can enjoy the philosophical satisfactions of Buddhism without having to give up the faith they were born into. "They do not feel they're being disloyal to Hinduism in any way," he says.
Of course, that makes it difficult to know exactly how widespread Buddhist practice has become. About 1.7% of India's population, or 170 million people, were counted as Buddhist in the 2001 census, but the vast majority are the descendants of Dalits, who converted to Buddhism en masse in the 1950s as a reaction against their low status in the Hindu caste hierarchy. It was an inspiring political revolution, led by the great Dalit activist B.R. Ambedkar, but its success gave contemporary Buddhism in India the stigma of a lower-caste movement. That's changed with this recent move toward the faith among the élite. Sarao estimates that urban, affluent followers of Buddhism in India may number about 1 million.
With them, the story of Buddhism in India comes back to its beginnings. In his book An End to Suffering: The Buddha in the World, author Pankaj Mishra describes the troubled times in which the Buddha appeared. Dissatisfied with lives regimented around work, he writes, people gathered to listen to a new breed of freethinking philosopher, "India's first cosmopolitan thinkers." Those disaffected seekers came together in groves and parks built near the cities of the sixth-century B.C. Gangetic Plain. But any 21st century Delhi-ite would surely recognize the tensions driving their search for spiritual clarity.