Indian state proposes airport on Buddhist circuit
by Virendra Singh Rawat, Business Standard, August 13, 2008
New Delhi, India -- To boost tourism and regional development in Uttar Pradesh, the state government has floated the idea of an international airport at Kushinagar and improving infrastructure on the Buddhist circuit.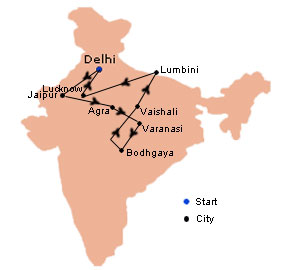 Although the circuit covering Sarnath, Kushinagar, Sankisa, Kaushambi, Shravasti and Kapilvastu attracts pilgrims and backpackers from all over the world, especially Japan and South East Asian countries, the immense potential of the circuit is still to be unlocked due to government apathy and lack of infrastructure facilities.
The state government has invited bids from reputed consultancy firms for preparing a comprehensive project report, bid documents and a concession agreement for the development of an international airport at Kushinagar and integrated development of the Buddhist circuit in the public-private partnership (PPP) mode on a design-build-finance-operate-transfer (DBFOT) basis.
The last date for sending the bids is August 22, and the qualified consultancy will also subsequently officiate as project management consultant.
These places follow Archeological Survey of India (ASI) norms, which have to be obeyed in the context of any development and construction activity.
"The consultants will have to keep the ASI norms in mind while preparing the blueprint for setting up the international airport and developing the Buddhist circuit at six places," an official source told Business Standard.
The proposed international airport will directly connect Japan, Myanmar, Korea, China, Thailand, Bhutan and Sri Lanka with Kushinagar, since these countries account for the maximum number of tourist arrivals on the Buddhist circuit.
At present there is an air strip in Kushinagar, which is used during an emergency. There is another airport in the nearby Gorakhpur district.
"The consultants will prepare an action plan for the development of international level tourist infrastructure on the circuit to boost tourist flow and invigorate the local economy," state tourism department Additional Director Harbans Singh Chugh said.
Meanwhile, the department is holding a pre-bid discussion on August 18 for the interested parties to seek clarification or information regarding the bid.
The Centre is yet to clear the proposal of the UP government to set up an aviation hub at Jewar in Gautam Buddha Nagar.
The matter is pending before the union cabinet for approval for long even as the central government recently allowed on a case-to-case basis a greenfield airport to be developed within 150 km from an existing one.
The Taj International Aviation Hub (TIAH), proposed in 2001, will ease the traffic at Indira Gandhi International Airport, New Delhi.