Dalai Lama recovers from illness, returns home
AFP, Sept 10, 2008
DHARAMSHALA, India -- The Dalai Lama returned to his northern Indian home-in-exile Tuesday after recovering from a stomach illness that put him in hospital for four days, an aide of the Tibetan leader said.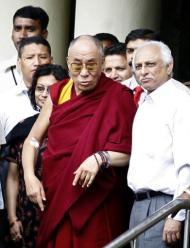 The 73-year-old Nobel peace laureate was discharged last week from a Mumbai hospital where he had been admitted for tests after suffering abdominal pain, and had been recuperating in Mumbai and New Delhi.
"His Holiness has fully recovered and is now back home," his spokesman, Tenzin Takhla, said in Dharamshala, the hilltop town where the Tibetan government-in-exile is headquartered.
"He is fully relaxed and will resume work starting with a teaching on 25 September," the spokesman said.
In the weeks preceding his illness, the Dalai Lama had pursued a hectic itinerary as he campaigned for improved human rights in Tibet while China hosted the Olympic Games.
The health scare prompted special Buddhist prayer meetings in Dharamshala with dozens of monks and nuns gathering at the main temple to pray for his well-being.
The Buddhist monk fled into exile in India in 1959 following a failed uprising in Tibet against Chinese rule.
He champions a "middle path" policy which espouses "meaningful autonomy" for Tibet, rather than the full independence that many younger, more radical activists are demanding.
Still, China vilified him as the "mastermind" of what it called a drive to sabotage the Olympics and destabilise the country.
Violent protests against Beijing's rule broke out across Tibet in March, sparking a heavy Chinese crackdown that drew global condemnation.